Lauren London Breaks Silence On Longtime Love Nipsey Hussle's Death
By Paris Close
April 3, 2019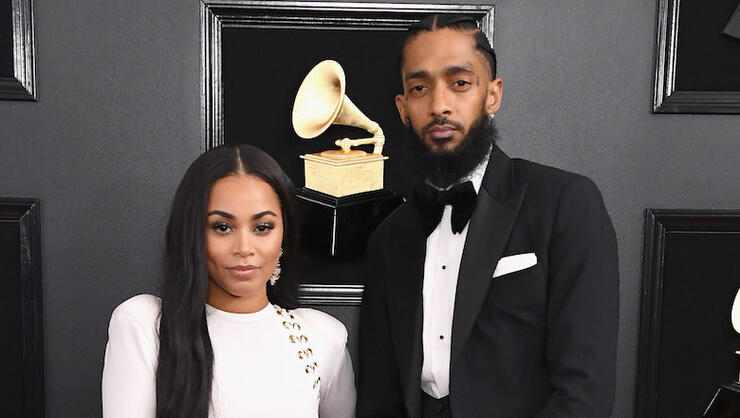 Nipsey Hussle's longtime girlfriend Lauren London has broken her silence for the first time since he was shot and killed at age 33 in Los Angeles on Sunday (March 31). The actress mourned her boyfriend of five years on Instagram Tuesday (April 2) in a heartfelt statement along with a set of images of she and the rapper, and their 2-year-old son, Kross.
"I am completely lost," the 34-year-old captions the post. "I've lost my best friend, my sanctuary, my protector, my soul. We are lost without you babe — I have no words." Some of the images London shared show she and Hussle together, both at events and surrounded by family, as others show the lyricist as a happy father spending quality time with his toddler.
According to Chief Michel Moore of the Los Angeles Police Department, Hussle was standing outside his Marathon Clothing store with two other men when his alleged assassin, 29-year-old Eric Holder, approached them. Holder supposedly engaged multiple conversations with the men, returning multiple times, before "purposely and repeatedly" firing at them, injuring two of the men and killing Nipsey.
"Based on witness statements and the background of those that we've identified, we believe this to be a dispute between Mr. Hussle and Mr. Holder," Moore told reporters. "We believe they were known to each other." However, Moore added he did not believe the shooting was gang-related.
Footage of the crime saw Holder shooting Nipsey multiple times before kicking his body and running away towards a back alley. Holder reportedly fled in a 2016 Chevrolet Cruz that was driven by a female getaway driver.
After a two-day, city-wide manhunt for the suspect in connection to the homicide, the Los Angeles County Sheriff's Department confirmed Holder was caught in an L.A. suburb before 1:30 p.m. on Tuesday (April 2).
Photo: Getty Images
Chat About Lauren London Breaks Silence On Longtime Love Nipsey Hussle's Death