There's A New Frontrunner For Meghan Markle & Prince Harry's Baby Name
By Emily Lee
April 3, 2019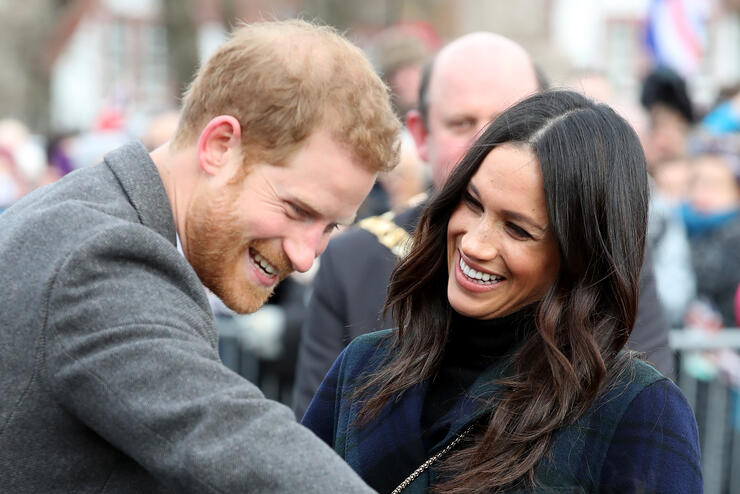 Meghan Markle is in the homestretch of her pregnancy. She's expected to welcome her first child with Prince Harry sometime at the end of April or early May, adding another Taurus to the Royal mix. As Meghan inches closer to her due date, many royal well-wishers are making baby name predictions for the Duke and Duchess of Sussex's little one. Not only are they making predictions, they're betting on their favorites, as well. While Alice and Alexander used to have the best odds, a new frontrunner has recently emerged: Elizabeth.
It may seem silly to believe that professional oddsmakers (who don't even know the royal family) have the ability to accurately predict royal baby names, however, they actually have a proven track record of doing just that. Oddsmakers correctly predicted that Prince William and Kate Middleton would name their second child Charlotte. For many royal-watchers, this was a surprising choice because Princess Charlotte is the child of the heir to the throne and she was not given an ancestral family name.
According toTime, Charlotte was the odds-on favorite for several days before the little princess was born. After it was announced her name was Charlotte Elizabeth Diana, bookmakers had to hand over an estimated 1 million pounds ($1.5 million) to those who successfully put money on that name. So, can this just be a coincidence? Not likely. "It sets off alarm bells that maybe there has been information leaked from the palace, and so the public followed the money,"Nicola McGeady, a spokesperson for the bookmaker Coral, explained why Charlotte surged in popularity leading up to the birth. Essentially, when a name jumps in popularity right before the birth of a royal baby, it's extremely likely that's the Royals first choice.
Just a few weeks ago, Elizabeth wasn't even in the top five for professional oddsmakers. Though many believed Meghan is expecting a baby boy, this new frontrunner suggests otherwise. Royals often do choose family names for their children and Harry is known to be quite close with his grandma aka Queen Elizabeth II. Since Meghan and Harry's child will be seventh in line for the throne, though, they have a little more freedom when choose a moniker. If they still choose to honor Harry's grandma, it's sure to be an even more touching gesture.
Photo: Getty
Chat About There's A New Frontrunner For Meghan Markle & Prince Harry's Baby Name