Wendy Williams' Estranged Husband Breaks His Silence Amid Divorce
By Peyton Blakemore
April 16, 2019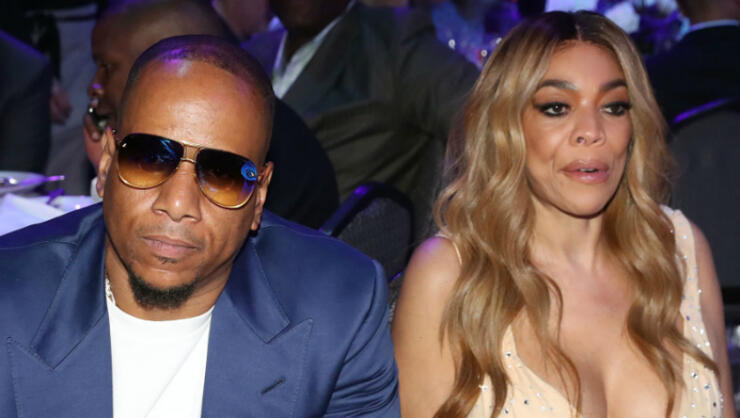 Wendy Williams may not be ready to talk about her divorce, but her estranged husband sure is.
In a lengthy statement to E! News, Kevin Hunter spoke highly of his soon-to-be ex-wife and the mother of his 19-year-old son just days after she filed for divorce.
"28 years ago I met an amazing woman: Wendy Williams. At the time, I didn't realize that she would not only become my wife, but would also change the face of entertainment and the world," the statement began. "I have dedicated most of our lives to the business empire that is Wendy Williams Hunter, a person that I truly love and respect unconditionally."
Seemingly addressing reports that his alleged longtime-mistress gave birth to his child last month, Kevin continued, "I am not proud of my recent actions and take full accountability and apologize to my wife, my family and her amazing fans. I am going through a time of self-reflection and am trying to right some wrongs."
"No matter what the outcome is or what the future holds, we are still The Hunter Family and I will continue to work with and fully support my wife in this business and through any and all obstacles she may face living her new life of sobriety, while I also work on mine. I ask that you please give me and my family privacy as we heal. Thank you," the statement concluded.
Kevin's statement came one day after Wendy dedicated her infamous "Hot Topics" segment to herself, and hinted that she was moving on from her relationship with Kevin. "It's crazy 'cause now my business is your business," Wendy said with a laugh to kick off her usually gossip-filled segment on Monday (April 15). "It's kind of funny. Turnabout's a fair game, I get it."
"I'm moving out of the sober house in just a few days, you know," she then revealed. "It'll be Wendy on her own." As fans know, Wendy announced that she was living in a sober living facility last month. Then days later, she was reportedly hospitalized due to an alleged relapse after reportedly being found drunk.
"I have to tell you, you know, I've been dealing with issues with addiction, alcoholism, and I have a whole new life that I planned for myself and my son," she continued, making it clear that it was going to be just her and her 19-year-old son moving forward. "Believe me you, when you lay in a room with no TV and four gray walls all day … this is my life in the sober house, it's one of the best things, honestly, that could have ever happened to me."
While she didn't mention her divorce directly, Wendy hinted that she's choosing to keep the details of her split under wraps until she's ready. "You wear a different mask when you're out here," she explained. "Everybody has things in their life that they're … not ready to share with the world."
"Addressing my sobriety, my addiction, head-on has really helped me sort out every single compartment of my life," Wendy added. "I have a commitment to me and my son to come out of here better, stronger and faster than ever. And by the way, I will still commit. … I commit that the motto of this show will always be, 'Their business is our business.'"
Wendy filed for divorce from Kevin, her husband of nearly 22 years, last week. "Thank you to everyone for respecting the family's privacy during this time. Kevin is supportive of Wendy and they are working through this process together," the personal representative for Wendy told People in a statement.
Photo: Getty Images
Chat About Wendy Williams' Estranged Husband Breaks His Silence Amid Divorce