Blackpink Storm 'Late Late Show' With 'Kill This Love,' Play 'Flinch'
By Hayden Brooks
April 19, 2019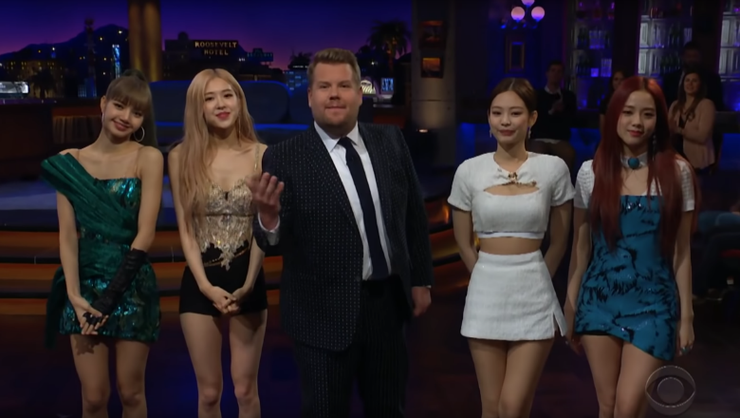 Another day, another BLACKPINK headline to dive into.
On Thursday night (April 18) the K-pop sensation took to The Late Late Show with James Corden to perform their latest single, "Kill This Love," and help American audiences get to know their personalities with two rounds of "Flinch." As you know, Corden's signature game sees celebrities stand behind a plastic screen and wait for the host to fire fruit at them in hopes that they don't flinch. Jisoo, Jennie, Rosé and Lisa were up for the task on the latest episode of the late-night show. Jennie ended up being the most jumpy on the first round, while Jisoo proudly declared, "I'm not scary." Lisa and Rosé took the platform next, admitting that they'd probably do better because they're younger than the other two, but that's not exactly how the segment ended.
BLACKPINK's stop at The Late Late Show in Los Angeles is in line with their current "In Your Area World Tour." On Wednesday night, Harry Styles was spotted at the group's kickoff show at The Forum as part of the trek. Wearing a gray beanie, the 25-year-old was seen sitting in the VIP section and watching performances by the quartet. Scroll on below to see BLACKPINK's appearance on The Late Late Show with James Corden!
Photo: YouTube/The Late Late Show with James Corden
Chat About Blackpink Storm 'Late Late Show' With 'Kill This Love,' Play 'Flinch'