Cage the Elephant's Guest DJ Station: Iggy Pop, Kanye West & More
By Taylor Fields
April 19, 2019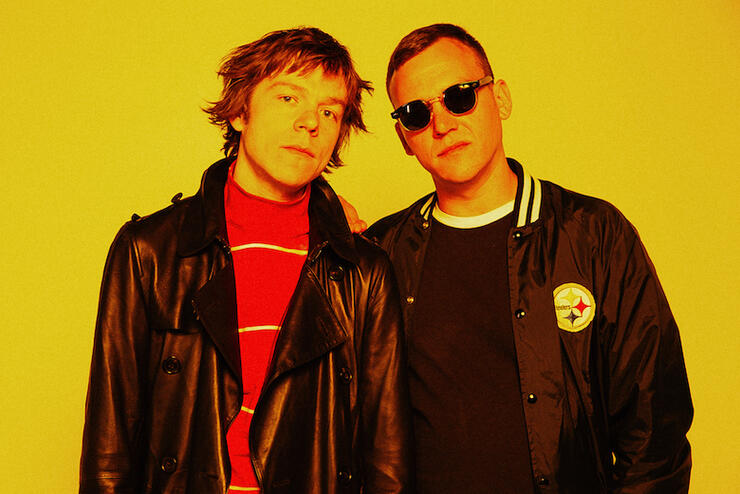 Cage the Elephant has returned with their brand new album Social Cues. The record is the band's fifth full-length studio album and follows their 2015 LP Tell Me I'm Pretty and 2017's live album Unpeeled. The album showcases 13 new songs including their lead single "Ready To Let Go" and a song featuring Beck called "Night Running." Social Cues was produced by John Hill and it was the first time the band had worked with the producer after being fans of his work with bands like Santigold and tUnE-yArDs.
CTE's Brad Schultz said of making Social Cues, "Things come in waves for us. We tried to pull ourselves out of our comfort zone and not do a record like we'd done records before, which is just three weeks solid in the studio. This time we broke it up where so we could follow those waves of creativity." Matt Schultz adds, "It's funny, I was writing about some really devastating stuff, but this album had an easier start than most of our earlier stuff."
To celebrate Social Cues, iHeartRadio passed the pic over to the band to curate their own Guest DJ station on iHeartRadio. On this exclusive station, not only can fans hear music from their new album, as well as favorites from previous albums, they can also hear some of the band's favorite songs from artists including Iggy Pop, Kanye West, and so many others.

On their Guest DJ Station, Cage the Elephant talked about how they wrote their single "Ready to Let Go," and some of their favorite songs by Iggy Pop, Kanye West and more. Take a look at some highlights below.
On how they wrote "Ready to Let Go":
Matt: "This song, I actually started writing on a personal vacation. I'd taken a trip to Pompeii and was visiting Mount Vesuvius, and had some difficulties, some adversities that I was facing at that point in life, some personal stuff. And as you do in those kind of situations, sometimes you can feel trapped and isolated and I remember looking at the statues of the people, the casts of people who'd been trapped under the ash and just relating to those people and feeling like I was frozen or trapped within whatever was going on at the time."
On Iggy Pop's "Nightclubbing"
"It's one of his, I believe, more unique recordings. It was when he was spending a lot of time with David Bowie and Bowie was producing him. And this record in particular, recently has made a huge impact on me, and I think it's very much relevant today. And Iggy, I really think because he's such a wild live performer and he commands the space so well, a lot of people forget what an artist he is in the studio, aesthetically, lyrically. Um, but anyways, that was Iggy Pop nightclubbing.
On Kanye West's "Black Skinhead"
"Love him. Hate him. I still think this guy is a bonafide musical genius, and this next song is one of my favorites of his off of his record Yeezus. When I first heard this track, it just totally, sonically blew me away, creatively blew me away. And obviously, it's packed with a very, very potent message."
Listen to more of Cage the Elephant's music and favorite songs on Cage the Elephant's Guest DJ station on iHeartRadio.
Photo: Rachel Kaplan
Chat About Cage the Elephant's Guest DJ Station: Iggy Pop, Kanye West & More