Carmine Appice Says Vinnie Vincent Didn't Want To Play Songs At Comeback
By Andrew Magnotta @AndrewMagnotta
April 26, 2019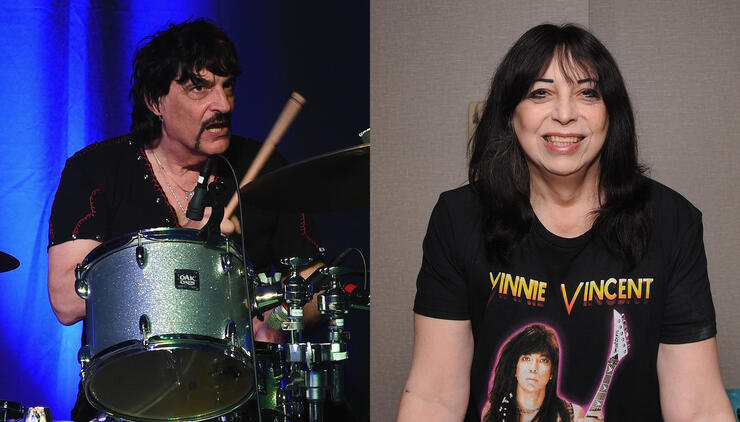 Vinnie Vincent's recent assertion that it was the promoter, not himself, who canceled his February comeback shows was met with plenty of skepticism.
Now, drummer Carmine Appice, who was hired to play in Vincent's backing band, has offered his own recollection of the events leading up to the cancelation to The Metal Voice with Jimmy Kay.
If what Appice says is true, the promoter might have done Vincent a favor by calling off the whole affair.
Appice had previously revealed he had his doubts about Vincent's fitness to play. But the drummer says the writing was on the wall about the shows weeks before they were canceled, as Vincent never provided a setlist to the band and changed his mind last-minute about singer Jim Crean.
With the show drawing near, Vincent dropped a bombshell: he didn't want to play any music by KISS, the Vinnie Vincent Invasion or the rest of his catalog; he wanted to improvise for the entirety of the show.
"Quite honestly, I don't want to jam," Appice said. "I don't want to go on a stage and jam. Jam? I wanted to play songs. I wanted to play songs that people were coming to hear. That's gonna reflect on me and Tony [Franklin, bassist]. [Fans] are going to see a show and it's just jamming — no rehearsing, no work put into it at all?"
Tickets to the shows weren't cheap, either. And press materials surrounding the event advertised that the band would be playing music from Vincent's career, including a lesser known band featuring himself and Appice.
While Vincent may not have given the official word on canceling the show, Appice says it "came from Vinnie."
"He didn't want to do the gig with Jim," Appice continued. "He told me he wanted to do the gig with just jamming. I didn't want to do that."
"Just to go on stage, where people pay to get in and just say, 'Okay, Vinnie, start a riff!' And then he starts a riff and then we join it, not knowing where we're going with no rehearsals, no anything. To me that's not a professional show that I want people to pay to see me playing in."
Vincent has announced a new band and a new show, set for June 7 in Nashville.
The poster for the $300 per ticket show makes no mention of what material the band will be performing.
Photos: Getty Images
Chat About Carmine Appice Says Vinnie Vincent Didn't Want To Play Songs At Comeback