Lauren London Vows To Love Nipsey Hussle 'Forever' In Emotional Post
By Peyton Blakemore
April 26, 2019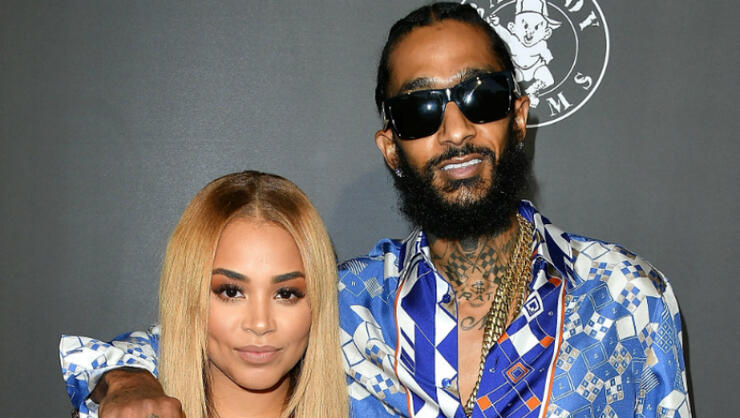 Lauren London will love Nipsey Hussle "forever."
The 34-year-old actress shared another tribute to her late boyfriend on Instagram Thursday (April 26), but this time she let the throwback photo do most of the talking.
Simply captioning a black-and-white picture showing her and Nipsey's backs as they held one another posing for a photo, "forever," Lauren made it clear that her heart will always belong to the late rapper and activist, born Ermias Asgehdom.
Lauren's sweet message and post to her boyfriend came a few days after she shared her fourth social media post to Nipsey, who was gunned down outside his clothing store on March 31. "Missing you," she captioned a black-and-white Instagram photo of her and Nipsey on the 2019 Grammys red carpet as they looked adoringly at one another.
As fans know, the couple shared a two-year-old son, Kross Asgehdom. During Nipsey's April 11 memorial service, Lauren spoke about her greatest pain being that their son will now grow up without his dad. "My pain is from a 2-year-old that probably won't remember how much his dad loved him," she said in her eulogy. "This is something that I don't really understand but I know Ermias always used to say that you can't possess people; that you experience them. I'm so honored and blessed to experience such a man."
"We lost an incredible soul. We lost a real one. We won't ever be the same," she added. "But in Hussle's words, 'The game is going to test you, never fold. What's in you, they can't take away,' and he's in all of us," Lauren shared before concluding her speech with Nipsey's famous slogan, "the marathon continues."
Hours after the 34-year-old actress said her final goodbye to Nipsey, Lauren shared a heartwarming photo of her permanent tribute to Nip — a tattoo of his face on her lower arm above the words "God will rise."
"Real Love Never Dies," she captioned an Instagram photo of her tat. "When you see me, you will always see him #LoveYouHussle #TMC."
Photo: Getty Images
Chat About Lauren London Vows To Love Nipsey Hussle 'Forever' In Emotional Post