Taylor Swift & Beyonce Fans React To Her BBMAs Marching Band Performance
By Peyton Blakemore
May 2, 2019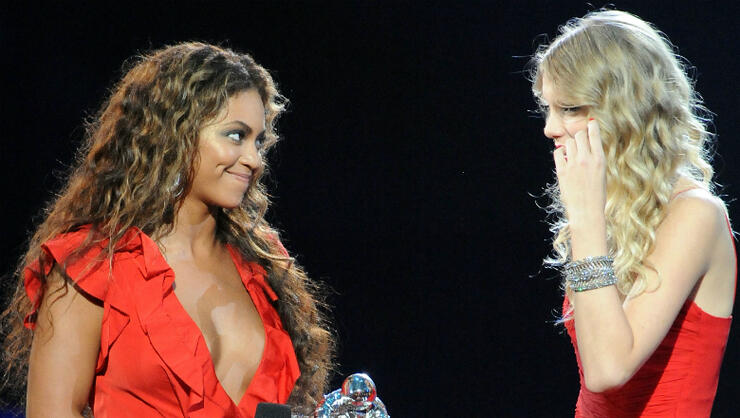 Beyoncé's Bey Hive and Taylor Swift's Swifties are at war over Taylor's performance at the 2019 Billboard Music Awards.
All of social media lit up when Taylor took the BBMAs stage to perform her new single "Me!" live for the first time on Wednesday (May 1), but it wasn't exactly the response Taylor may have been expecting.
See, the "Delicate" singer's performance included a full marching band that was dressed in pink while she strutted around in a colorful majorette outfit. The production almost immediately drew comparisons to Beychella, Beyoncé's history-making 2018 headlining set at Coachella, which was recently shown in her Netflix documentary, Homecoming.
As fans know, Beyoncé began her Coachella set with a marching band — that was a huge part of her performance, which was a tribute to HBCUs (Historically Black Colleges and Universities), and black culture — and too wore pink for her second Beychella weekend set. All of which, Bey's fans noted on social media.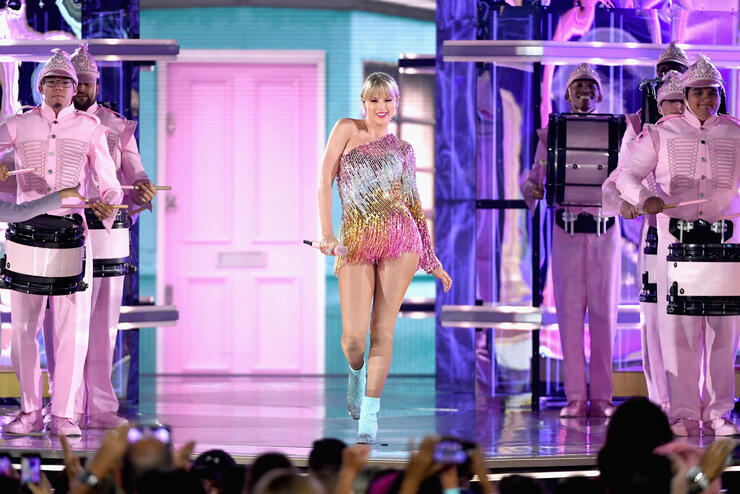 "I see Taylor Swift is doing the Great Value Version of Beyoncé's Homecoming #BBMAs," one fan wrote. Another added: "No Beyonce didn't invent Drumline HOWEVER The band dressed in pink Her in a leotard Literally the scene resembles Beyonce's opener at the top of the bleachers She knows EXACTLY what she was doing and the implications that has."
Despite their alleged similar sets, Swifties were quick to point out that Taylor has long been a user of marching bands in her videos and performances — she specifically performed with a marching band every night in 2009 when she performed "You Belong With Me" while on the Fearless Tour — and Taylor even had a marching band in the music video for "ME!"
"Taylor Swift did a drumline before Beyonce at Coachella. Chill out. #BillboardMusicAwards2019 ," a fan captioned a gif from Taylor's 2009 music video for "You Belong With Me" where she was in a school band. Another fan wrote: "Lmao all of y'all sh*tting on Taylor Swift for using a marching band in her performance claiming she's copying Beyoncé. Taylor already did that back on her Fearless tour. Sit down."
And when fans weren't defending Taylor, they were praising her and Beyoncé for their individual geniuses. "👀 at yall pinning women up against one another again. Beyoncé was not the 1st to have a marching band, she will not be the last + this is not the first time Taylor's used the marching band aesthetic (YBWM). They're both f**king awesome powerful women," one fan wrote.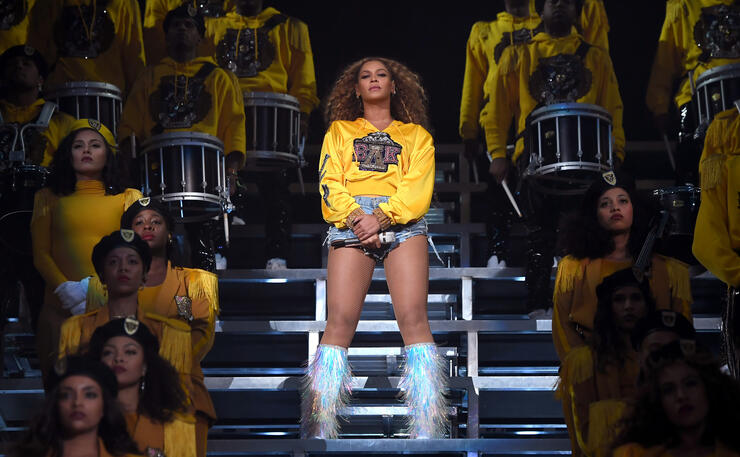 To see a few of the initial reactions to Taylor' BBMA performance, check them out below:
Chat About Taylor Swift & Beyonce Fans React To Her BBMAs Marching Band Performance