Tekashi 6ix9ine's Girlfriend Gets Huge Tattoo Of His Face
By Peyton Blakemore
May 8, 2019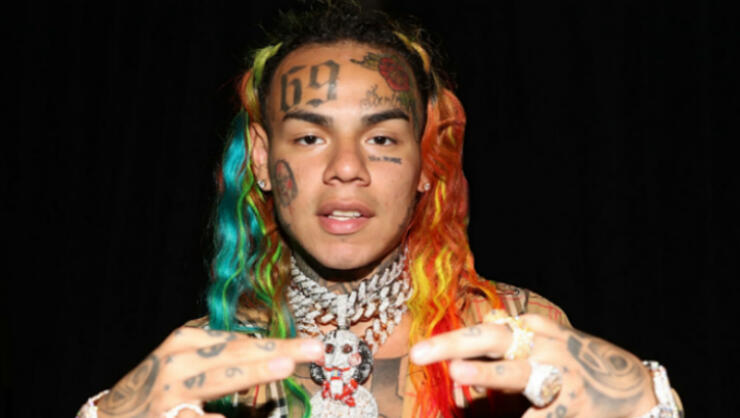 Tekashi 6ix9ine's girlfriend Jade loves herself some Tekashi.
In honor of the incarcerated rapper's 23rd birthday on Wednesday (May 8), the 22-year-old bartender revealed her second 6ix9ine-inspired tattoo — a photo of his entire face.
"Just got Chris Brown tatted sh*t crazy 🤦🏽‍♀️," she captioned a shot of her showing off her gigantic new face tat of the rapper on her shoulder on Instagram earlier this week. Jade's new ink is opposite of her also huge "69" tat, which she got after Tekashi was arrested late last year, despite only dating Tekashi for a few weeks.
As fans know, the 23-year-old rapper is currently being held in federal jail without bail. In January, he entered a guilty plea for nine federal charges against him, including multiple counts of racketeering, conspiracy, firearms offenses, and narcotics trafficking. While it's unclear what sentence he'll have after coping guilty pleas — he was previously facing 32 years to life after being charged with six federal crimes (more charges were added while he was behind bars)— he will be sentenced on January 23, 2020.
Tekashi was initially accused of committing a string of crimes with five of his alleged Nine Trey gang members, including: "conspiracy with others to commit racketeering, discharging a firearm while committing a crime, committing a crime of violence in aid of racketeering, assault with a dangerous weapon, carrying a firearm, and committing a crime in aid of racketeering."
Photo: Getty Images
Chat About Tekashi 6ix9ine's Girlfriend Gets Huge Tattoo Of His Face