John Stamos Just Shared Cryptic Instagram Of Lori Loughlin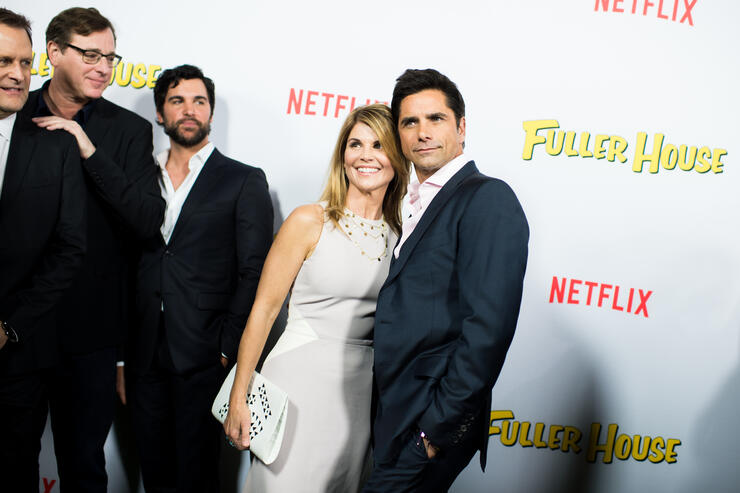 The cast of Fuller House has made no secret of the fact that they're supporting longtime cast member Lori Loughlin through the college admissions scandal. Candace Cameron Bure has publicly defended Loughlin twice since her involvement in the bribery scam became public. Bob Saget has also thrown his support behind his on-screen sister-in-law. John Stamos, however, has remained relatively quiet on the subject. His recent, cryptic Instagram post about Loughlin, though, is getting dragged by his followers.
Stamos shared a group shot of the Fuller House cast, including Saget, Bure, Jodie Sweetin, Dave Coulier, Andrea Barber...and Loughlin. "Gearing up for the 5th and final. @fullerhouse," Stamos captioned the photo. Loughlin was the only one not tagged in the photo. She deleted her Instagram in March after news of the scandal broke.
Stamos's decision to post a cast photo featuring Loughlin to promote the fifth and final season of Fuller House is interesting because it's been reported that the 54-year-old actress will not be returning to the show. A Fuller House source spoke about Loughlin to Deadline back in March and they did not mince words. "She's toast, it's over," the source said, adding that the "writing is pretty clearly on the wall."
So, is Stamos cryptically hinting that Loughlin is actually returning to the show? Possibly, but his followers are so not here for it. "Y'all gonna be visiting Aunt Becky in jail?" one of his followers wrote, while another added: "Uncle Jesse should sing 'Jailhouse Rock' to Aunt Becky."
"Aunt Becky goes to jail sounds like a great episode," another commenter said. "I just don't think Aunt Becky will make it to the 5th season," wrote another.
What do you think: did Stamos reveal Aunt Becky will be returning to Fuller House? Or was he just subtly showing support for this friend?
Photo: getty
Chat About John Stamos Just Shared Cryptic Instagram Of Lori Loughlin