Vanna White Supports Alex Trebek, Says He Has A 'Will To Conquer' Cancer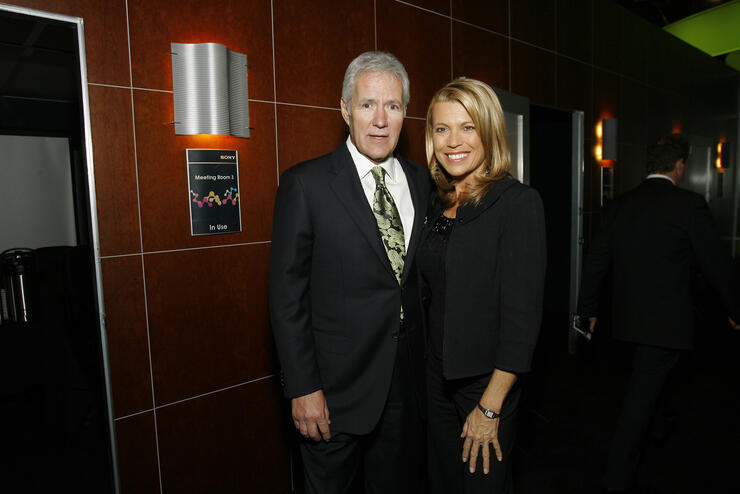 Vanna White is supporting her longtime friend Alex Trebek through his cancer battle. The Jeopardy host revealed he had been diagnosed with advanced pancreatic cancer back in March, promising his fans he planned to continue working on the game show. Now his close friend and Wheel of Fortune hostess is speaking out about Trebek's journey.
"Oh, I've been supporting him 100 percent," White recently told Closer Weekly. "We've known each other for over 30 years, of course. And even though he's on a different show, we're still the same family so I'm there and supporting him and praying for him."
"He's hanging in there," she continued. "He's a strong man and he has got such a strong will to conquer this. [He's] very good, very good. He's funny, he keeps himself entertained and he entertains others with his humor."
Trebek recently gave fans an update on his health, as well. After wrapping the latest season of Jeopardy, the host released a video thanking everyone for their support. "I wanted to once again thank you for your continuing messages of encouragement and support particularly the many cards I've received from young people. I'm touched beyond words," Trebek said in the video message. "So I look forward to seeing you once again in September with all kinds of good stuff." 
We're looking forward to seeing Trebek back on the set of Jeopardy in September. We're sure his dear friend is, too.
Photo: Getty
Chat About Vanna White Supports Alex Trebek, Says He Has A 'Will To Conquer' Cancer