Cardi B Wants Fans To Stop Doing This When They See Her In Public
By Peyton Blakemore
May 20, 2019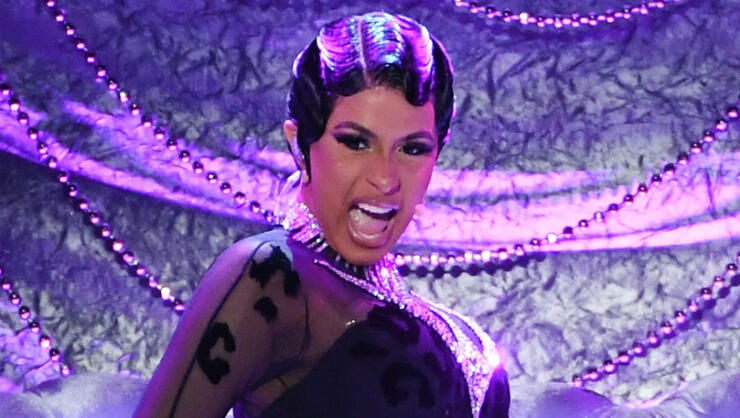 Cardi B's all about fan love, but when she's out living her life like the rest of us, she's not trying to be put on blast.
The "Wish Wish" rapper got candid with her fans in an Instagram video Sunday (May 19), asking that they chill out a bit if they see her in public, as to not draw so much attention to her. "To people that see me in public — 'cause I be going out a lot — When y'all see me, can y'all please not scream out my name? like 'CARDIIIIII!' Just come up to me, say hi," she asked before explaining her reasoning. "I be trying to be low-key. I be trying to buy some f**king panties in Target and sh*t [...] y'all be blowing up my motherf**kin' spot and sh*t."
"I'm gonna say hi. I'll give you a hug and everything, but just don't scream out my name, [blowing] me the f**k up," Cardi continued. "Then y'all be asking me these dumb a** questions. 'What are you doing here?' B*tch, the same thing you're doing here motherf**ker... stealing," she joked. "Nah, shopping, but y'all be putting a b*tch on f**king blast, bro."
Just last week Cardi issued another request to her fans, specifically the creators of her fan pages. On Thursday (May 16), the "Clout" rapper took to Instagram Live to set a few things straight after she discovered a number of fan pages dedicated to her had been speaking poorly about a few of her family members.
"Dear, fan pages," she began. "I am so thankful that I have people that love me, that follow-up with my life, that always support me, my music, my looks, and everything. And I talk to a lot of fan pages because they love me so much." However, she said some of these pages have been talking "hella crazy" about the people she loves, including her sister Hennessy Carolina, and she was not going to put up with it.
"No, you cannot talk about my sister," she said. "I would go to jail for my sister, I would die for my sister, I would take a bullet for my sister. So nobody could talk about my sister. I could be best friends with somebody for 100 years. Once they say something slick about my sister, you're getting cut the f**k off, period."
Next on her list to defend was her publicist, Patience, who she's spoken in defense of a number of times before. "Nobody can talk about Patience," she added, before adding her husband Offset to the list. "I appreciate my fans and everything, I love them. Y'all can talk about how I look, how I'm crazy, if y'all don't like a song [...] Y'all can talk anything about me [but] keep my family out of it," she concluded.
Photo: Getty Images
Chat About Cardi B Wants Fans To Stop Doing This When They See Her In Public