Cardi B Cancels Concert Due To Plastic Surgery Complications
By Peyton Blakemore
May 21, 2019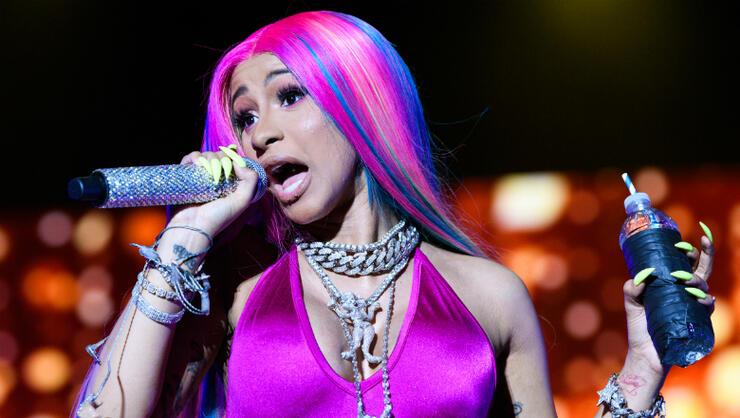 Cardi B is going to have to slow down for a while.
According to TMZ, the "Clout" rapper was forced to cancel a Memorial Day Weekend concert in Maryland because of some serious complications from her recent liposuction and breast augmentation surgeries.
Sources told the entertainment news site, things have gotten so bad, Cardi simply cannot perform, which is what her doctors have reportedly been recommending for weeks now. The 26-year-old rapper's surgeons say she needs time to let the swelling go down and for her body to fully recover after her recent surgeries. Doctors are reportedly recommending she rest for a few weeks, especially since she's been doing so much.
As fans know, Cardi has had back-to-back performances and appearances for all of 2019. If she wasn't at the launch of her Vegas residency, she was headlining a music festival, or performing at a venue, or launching her clothing line (where she also performed), or attending/performing at an award show. To say that she's been busy would be an understatement, and sources close to the rapper told TMZ the surgeries are finally catching up to her and her heavy workload proved to be too much, too soon.
Cardi has been very open about going under the knife. Earlier this month, she told the crowd at the Beale Street Music Festival in Memphis that she recently had liposuction. "I have some news for y'all," she teased. "I should have canceled today. I shouldn't really be performing because moving too much is gonna f**k up my lipo. But b*tch, I'm still gonna get my motherf**king money back, let's go!"
Days before that, Cardi admitted to undergoing breast augmentation surgery while chatting with Entertainment Tonight at the 2019 Billboard Music Awards, where she put her incredible abs on display. "I just got my boobs redone. I feel good, but then sometimes I feel like not, you know? [When] your skin is stretched out," she explained.
"Yes, my daughter f**ked me up," Cardi jokingly added, referencing the birth of her nine-month-old daughter Kulture. "She did. She so did."
Photo: Getty Images
Chat About Cardi B Cancels Concert Due To Plastic Surgery Complications