Ian Hill Says Time Is Running Out For Judas Priest, Iron Maiden Tour
By Andrew Magnotta @AndrewMagnotta
May 30, 2019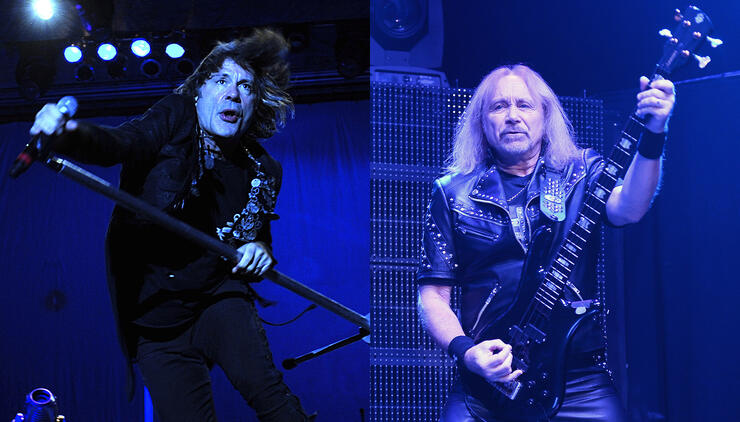 The first time Iron Maiden and Judas Priest toured together didn't go very well.
Almost 40 years later, after leading the new wave of British heavy metal, the two camps have mostly resolved their differences, each firmly established in music history as icons of the genre. In recent years, members of both bands have expressed interest in getting back together for a second try at what would be one of the highest-powered tours in metal history.
Now, Judas Priest bassist Ian Hill points out that they're running out of time to make it happen.
"There's always the big question of Judas Priest and Iron Maiden," Hill told Audio Ink Radio. "That would be really interesting if we could get that together before some of us die. "It'd be great! You run into these people over the years. We've played with quite a few of them, but we've got to get together with Iron Maiden!"
While neither band has expressed interest in retirement, Judas Priest has had both of its legendary guitarists step away in recent years.
The Maiden-Priest tour was a handful of dates in the U.K. in 1980 and in the U.S. in 1981. Iron Maiden had just released its debut album while veteran rockers Judas Priest had just broken through with British Steel.
But the two bands clashed as Judas Priest perceived Iron Maiden as arrogant and cocksure. Years later, Iron Maiden's vocalist at the time, Paul Di'Anno, apologized to members of Judas Priest for his behavior, saying he was mostly to blame for the rivalry.
If both bands agree to the reprise, it probably wouldn't happen for at least a year. Judas Priest is continuing its tour on its latest album, Firepower. Iron Maiden is embarking on the North American leg of the 'Legacy of the Beast' tour.
Get Judas Priest's tour dates here.
Get Iron Maiden's tour dates here.
Photo: Getty Images