How Will 'Fuller House' Explain Lori Loughlin's Absence In Final Season?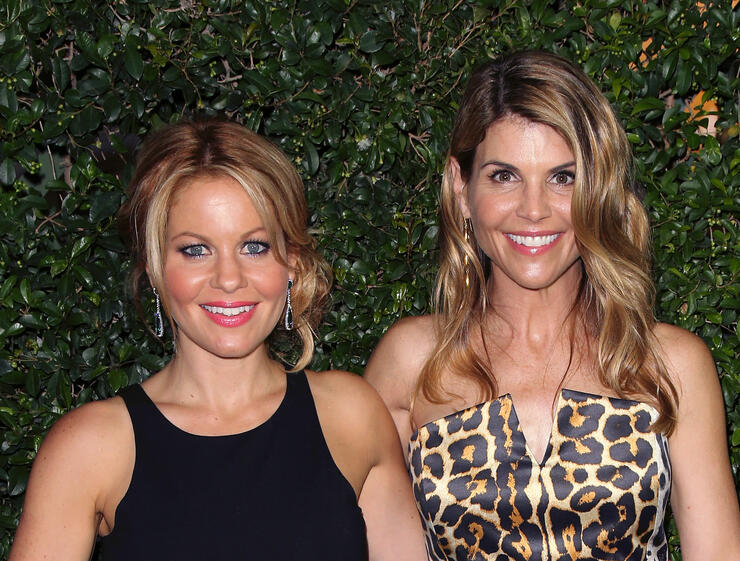 Candace Cameron Bure addressed the question on everybody's mind as Fuller House begins production on its fifth and final season. How will the show explain the sudden absence of fan-favorite character Aunt Becky? Lori Loughlin brought Aunt Becky to life on the small screen during Full House's original run, as well as on Netflix's Fuller House revival for four seasons. Though Netflix has not confirmed Lori's departure from the show following the college admissions scandal, sources involved with the show revealed the 54-year-old actress would not be returning.
Candace attended iHeartRadio's Wango Tango over the weekend and, while walking the red carpet, answered some questions about Lori's involvement (or lack thereof) with Fuller House's final season. The 43-year-old actress told Entertainment Tonight the issue "hasn't been discussed." Candace added: "I have absolutely no answer for it, and Netflix has not even spoken about it, so I have no answer."
Though Candace remained tightlipped at Wango Tango, she's voiced her support for her longtime co-star on multiple occasions in the past. While accepting an award with the rest of the Fuller House cast at the Kids Choice Awards, Candace said "a loving family sticks together no matter what...they support each other, they encourage one another, they pray for each other and they stand by their side no matter how tough it gets."
She doubled down on her defense of Lori amidst the college admissions scandal during an appearance on The Today Show, as well. "We would never want to talk about someone that's such a dear and close friend. I've already said that we are family and we stand by each other and pray for each other and we'll always be there for each other," she said.
Candace and Lori's co-star Bob Saget also spoke up for Lori, telling TMZ: "You love who you love in your life. I just love who I love. Candace said it really good at the Kids Choice Awards…You love who you love." He then added that he's "on the team of people that I love, but life's complicated. I don't like talking about it."
Unless Netflix makes an official statement in the coming months, we'll have to wait until the final season drops to find out how Aunt Becky's absence is handled.
Photo: Getty
Chat About How Will 'Fuller House' Explain Lori Loughlin's Absence In Final Season?