Mastodon Expected More Criticism For "Stairway To Heaven" Cover
By Andrew Magnotta @AndrewMagnotta
June 6, 2019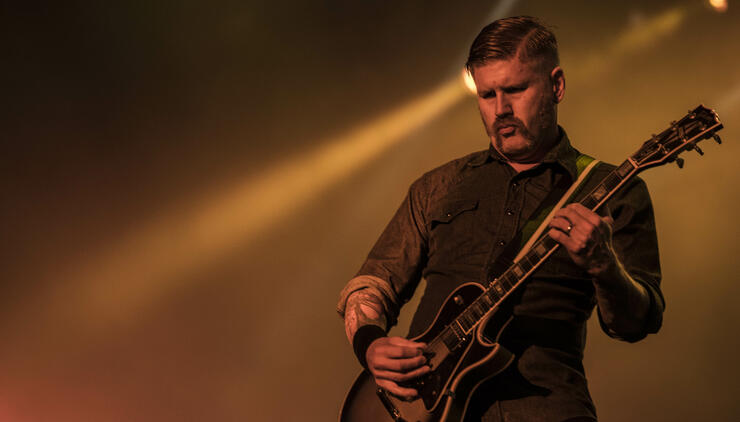 Mastodon guitarist Bill Kelliher says the band is pleasantly surprised at how its cover of Led Zeppelin's "Stairway to Heaven" has been received.
Kelliher's band mate, bassist Troy Sanders, recently acknowledged that "covering 'Stairway' should be illegal," but pointed out that the band had good reason to do a full-on remake of the song.
Mastodon first performed "Stairway" last September at the funeral for the band's late-manager, Nick John, who was a massive Zeppelin fan.
John passed away shortly after being diagnosed with pancreatic cancer. After the band members found out that their performance as John's memorial service had been recorded, they decided to record a studio version of the track and release the cover this past Record Store Day with all the proceeds going to benefit cancer research.
"We were totally prepared to get chewed out for that," Kelliher told Ultimate Guitar. "I think people are holding their tongues because it's a tribute."
He later added that the band members spoke with John almost daily throughout their career, whether they were at home or on tour.
"Nick John was so much more than a friend and manager," he said. "He was a really special human being. It's unbelievable that he's gone and it's so f---ing hard to believe I'll never see that guy again."
Kelliher explained that the band was initially going to perform a different Led Zeppelin song in John's memory, but his widow asked specifically for "Stairway."
The band was uneasy about tackling "arguably the greatest rock and roll song ever written," but couldn't say no. Learning the song well enough to perform accurately with just a few days to prepare was a mammoth task.
"You always think you know a song like 'Stairway to Heaven," but man, I had to sit there and really relearn it all and listen to it a million times."
Mastodon is on tour this summer with Coheed And Cambria. Get all the tour dates here.
Photo: Getty Images
Chat About Mastodon Expected More Criticism For "Stairway To Heaven" Cover