Mastodon Bassist Agrees Covering This Classic Rock Song 'Should Be Illegal'
By Andrew Magnotta @AndrewMagnotta
May 13, 2019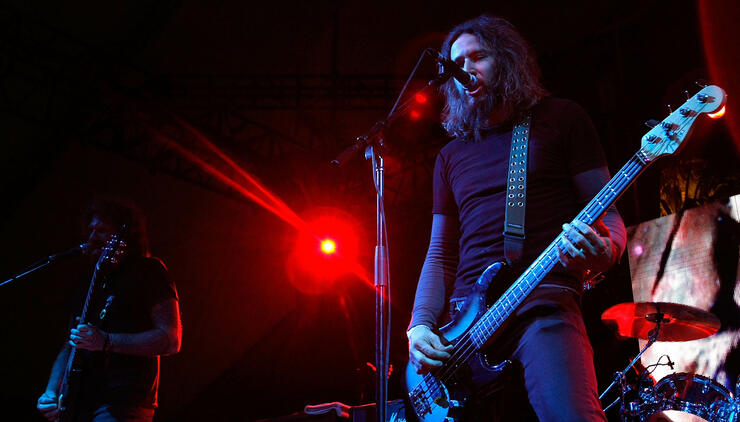 For a lot of rock fans, classics like "Smoke on the Water," "Hotel California," "Free Bird," "Crazy Train," "Smells Like Teen Spirit" and most of all, "Stairway to Heaven" are off limits.
Those are perfect songs, done right the first time by the artists who created them. Don't cover them in your band — maybe don't even learn how to play them in the first place!
Mastodon bassist/vocalist Troy Sanders says he and his band mates understand the feeling; they had to put "blinders" on to attempt their own version of "Stairway," which they later released on Record Store Day to support cancer research.
"Most people believe that covering 'Stairway to Heaven' should be illegal, and I'm one of the people that agrees with that," Sanders told Consequence of Sound.
The band covered the Led Zeppelin classic at the memorial service of its late-manger Nick John, who passed away last September of pancreatic cancer. The band explained that Zeppelin was John's favorite band, and that covering the song at his funeral in front of several hundred guests was in accordance with John's last wishes.
Unbeknownst to the band at the time, their live rendition was recorded. Mastodon later decided to release a studio version of "Stairway" and release both versions on a single for Record Store Day.
Sanders added that perpetuating a cliché was something the band had to look past.
"This was something special," he said. "Doing this cover was more important that what our brand stands for."
He added that the performance was "overwhelming," but many of the guests complimented what the band did.
"It was uplifting because it was music and it was connecting with people, as music does, in a special way that I consider magical."
Photo: Getty Images
Chat About Mastodon Bassist Agrees Covering This Classic Rock Song 'Should Be Illegal'