Lil Nas X, Billy Ray Cyrus & Keith Urban Sing 'Old Town Road' At CMA Fest
By Hayden Brooks
June 10, 2019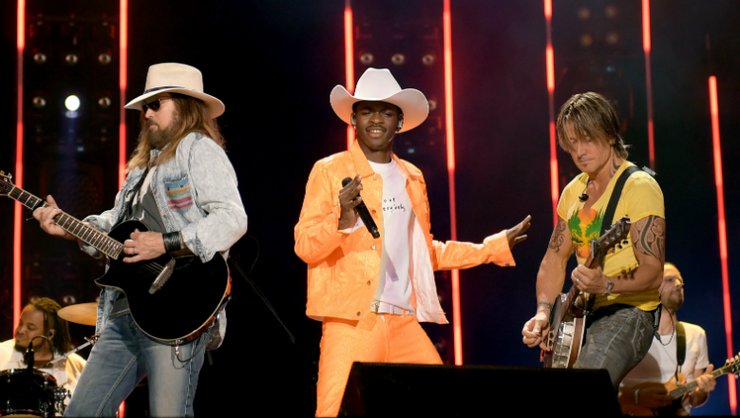 Lil Nas X's "Old Town Road" is the hit that keeps on giving as the budding star and Billy Ray Cyrus recruited Keith Urban for their latest rendition of the smash at CMA Fest 2019.
On Saturday (June 8), the trio took to the stage in Nashville for another buzzworthy performance of the viral song during Cyrus' set. Lil Nas X and Urban appeared as surprise guests during the number, with the latter singing a verse and adding some instrumental on the banjo. "Nas's t-shirt says LOVE EVERYBODY ….. I can't think of a better caption than that right there!!!" Urban captioned a shot of the two after the performance via Instagram. "@lilnasx and @billyraycyrus – thank u for the invite- I loved playing with u both and hope we get to do it again!!!!"
Meanwhile, it seems Cyrus had the same amount of gratitude for the all-star rendition. "It's just a massive amount of people singing the same song and feeling it and it's a unique feeling," he explained to Good Morning America. "I never thought I'd ever get to feel it again. And I mean it's just been really special." As for Nas, the star declared the number his "favorite performance so far." "You know, I was feeling it. Like the audience, Keith, Billy, you know everything just came together. It was great," he explained.
Despite all the success of "Old Town Road," Lil Nas X is set to pivot the attention to other tunes when he drops his debut EP, 7, sometime this month. In a recent interview with Teen Vogue, the rising star spoke about all the fuss with folks labeling him a one-hit wonder. "I've watched this happen over and over and over and over again. I've been the hater before. I've hated for no reason, so I'm seeing out [of] their eyes," the rapper said in his cover story for the magazine. "They're hoping that this doesn't happen. They don't know sh*t."