Sum 41 Transport To 1969 In 'A Death In The Family' Video: Watch
By Katrina Nattress
June 13, 2019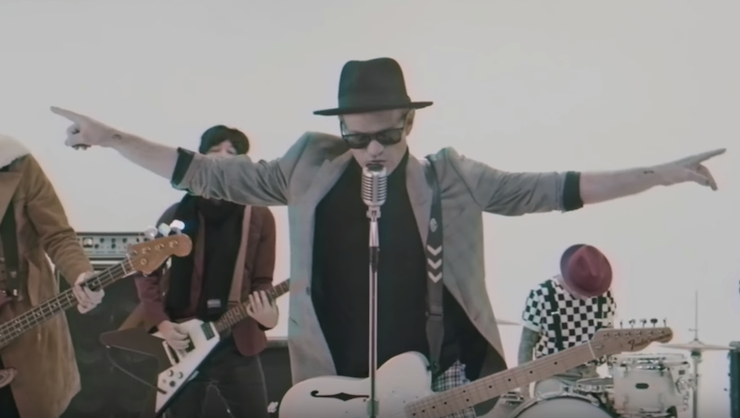 Sum 41 weren't lying when they said their new album would be heavy. This week, the Canadian punk rockers released the second single off their upcoming album, Order In Decline, and it's just as in-your-face as lead single "Out For Blood."
"A Death In The Family" is a rowdy, guitar heavy track that sees frontman Deryck Whibley caution "Your lies will tear you apart, will take you alive/ Won't spare you at all/ I tell you all your lies will tear you apart/ I'm calling all to arms so everyone and all it's time hear your voice/ You've got the right" during the chorus.
The accompanying video plays on the idea of future generations ("Your fate is left to a different generation/ You know they won't be kind") in a Black Mirror-esque clip. We see the band step out of a bunker in both the year 1969 and 2019 and perform the song on a split-screen stage being monitored by a masked observer.
Watch the eerie "A Death In The Family" video below.
Though both of the album's offerings are undeniably political, Whibley has made it clear he didn't want this to be a protest record. "I'm not going to write a protest record," he said in a recent interview. "I'm not going to talk about specific policies and trying to change the world or impeach the president and all of this kind of stuff. But I can talk about how I don't like [Trump]. I can talk about my own personal feelings, I guess. If I have some sort of anger, I can write an angry song, but I'm not necessarily saying time's up. We need to impeach the president. A lot of people are. There's a whole movement of trying to go down that road, and I support that route to a certain degree. I'm all for voting him out, but yeah, he's not my kind of guy."
Order In Decline is slated for a July 19 release on Hopeless Records and can be pre-ordered here.
Photo: YouTube
Chat About Sum 41 Transport To 1969 In 'A Death In The Family' Video: Watch