Alicia Keys Delivers Inspiring Stonewall Day Set For PRIDE Celebration
By Andrew Magnotta @AndrewMagnotta
June 28, 2019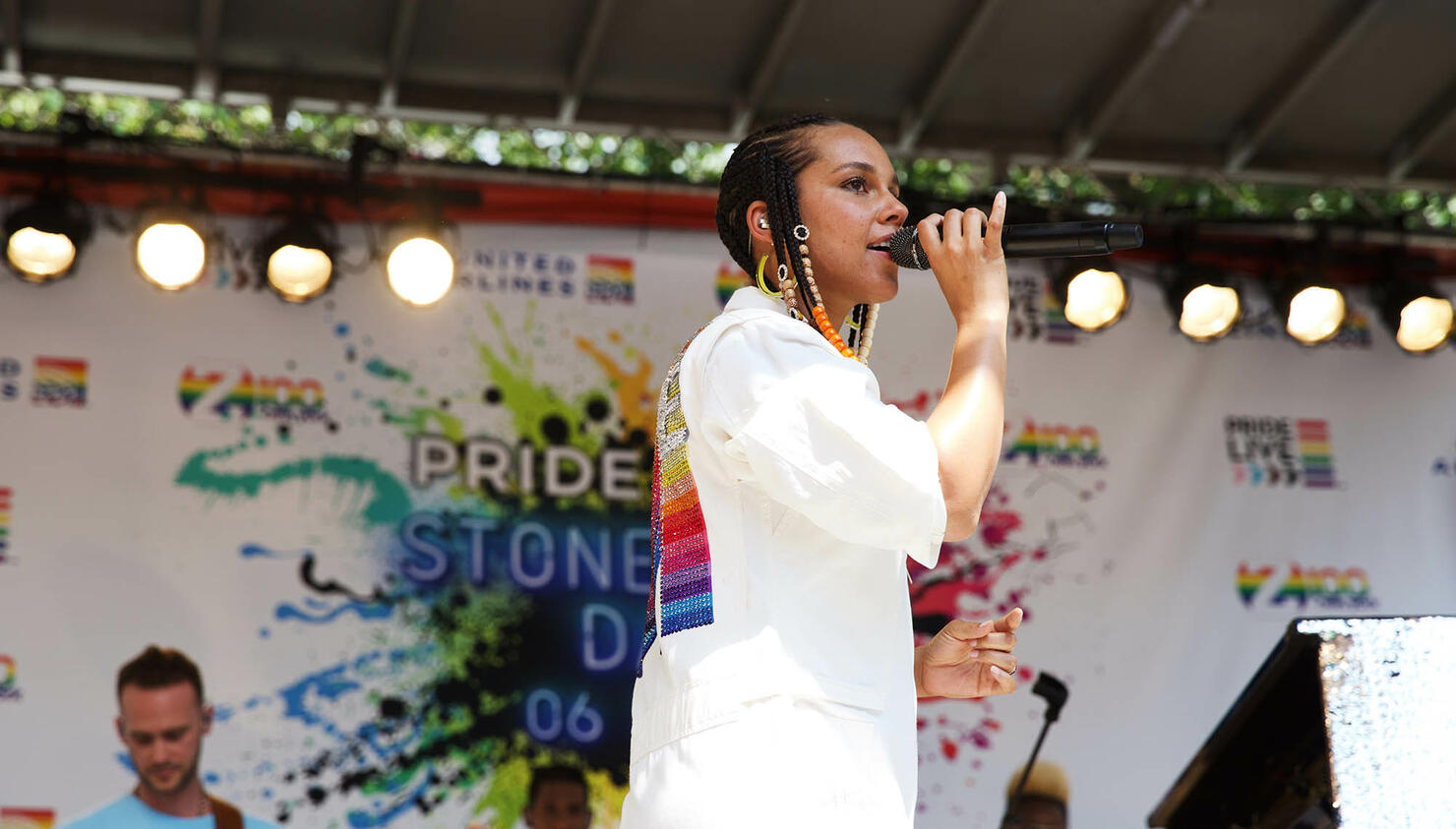 Alicia Keys and her band surprised a crowd of nearly 5,000 people gathered in the heart of New York City Friday afternoon to mark the 50th anniversary of the Stonewall Uprising at Pride Live's Stonewall Day Concert, which was presented by United Airlines®.
Keys and her band delivered an inspiring set, which came at the conclusion of a two-hour PRIDE program hosted by Elvis Duran, featuring speeches by New York City First Lady Chirlaine McCray, Blossom Brown, Chelsea Clinton, Valerie Jarrett, Wilson Cruz, Donatella Versace, Lady Gaga and many others.
After being introduced by Whoopi Goldberg and Bob the Drag Queen, Keys took the stage to "Girl on Fire" and then performed a teary-rendition of Billy Steinberg and Tom Kelly's "True Colors."
Keys' punctuated her set with remarks about the importance of continuing to strive for LGBTQ equality.
"Places are powerful," Keys proclaimed, referring to the historic Stonewall Inn in Greenwich Village, where the gay liberation movement began making national headlines in 1969. "People are powerful. Together we're even more powerful than you can imagine."
Keys' set also included a versions of Robin S.'s "Show Me Love," as well as "In Common," "Gypsy Woman" and, of course, "Empire State of Mind."
WorldPride 2019 is in full effect and iHeartPride is celebrating the monumental June celebration with tons of coverage.
At the end of the show, Duran promised they would mark the Stonewall anniversary again in 2020.
iHeartRadio, Z100 New York and 103.5 KTU are Presenting Media Sponsors for NYC Pride and we're taking the milestone to heart with LGBTQ-focused coverage on everything from entertainment, politics and details on the summer festivities. After all, it does coincide with the 50th anniversary of the Stonewall uprising.
Stay tuned for more on World Pride 2019 and keep an eye out for our float in the Big Apple's all accumulating parade on June 30!
Photo: Rachel Kaplan for iHeartRadio