Robert Plant Felt Like A "Wedding Singer" Next To Led Zeppelin Band Mates
By Andrew Magnotta @AndrewMagnotta
July 2, 2019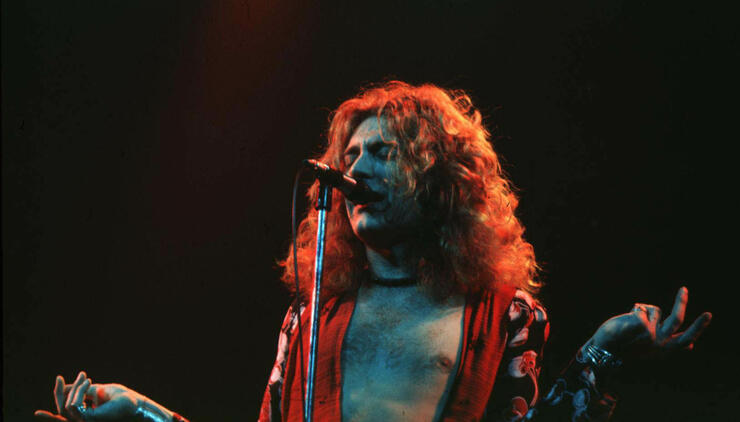 Despite what some would have you believe, Robert Plant loves Led Zeppelin.
The iconic singer, who is often presumed to be the lone dissenting vote in any potential Led Zeppelin reunion talks, has repeatedly over the years professed his love for his band mates and for the music they created together.
On the latest episode of Plant's Digging Deep podcast, he adulated his band mates while discussing Zeppelin's Presence epic "Achilles' Last Stand."
Despite Plant's lyrics and vocal performance, he recalls mostly contributing "enthusiasm" to band mates Jimmy Page, John Paul Jones and John Bonham while they were writing and arranging the track.
"If you think about Led Zeppelin being a trio, really, with a kind of wedding singer stuck up the front," the front man began, "my enthusiasm was a good contribution but, in truth, those guys were amazing. ...Even though Presence isn't the most comfortable listen ... the interplay and the melding of the musicality of those three guys on that track is insane."
You can listen to the full podcast below.
Plant drew from a pretty dark period when it came to putting words to the music for "Achilles Last Stand." He says he began writing after a serious car accident that left him and his then-wife hospitalized. He says drawing inspiration from mythology, and from his visit to Morocco, came from wanting to escape his bed-ridden state.
"'Achilles' Last Stand' was an uncomfortable time ... but in that, it was a disparate time," he said. "I started writing about freedom and escape; the [idea] throughout the song is to be gone to a place which is a reward..."
This isn't the first time Plant has self-deprecated in regards to his role in Led Zeppelin. In May, Plant said he thinks he ruined a few of the band's songs with his vocals.
"My peer group were writing substantial pieces of social commentary," Plant said at the time, "and I was willowing along the Welsh borders thinking about Gollum."
Photo: Getty Images
Chat About Robert Plant Felt Like A "Wedding Singer" Next To Led Zeppelin Band Mates