Ed Sheeran Taps Bruno Mars & Chris Stapleton For New Rock Song 'Blow'
By Paris Close
July 5, 2019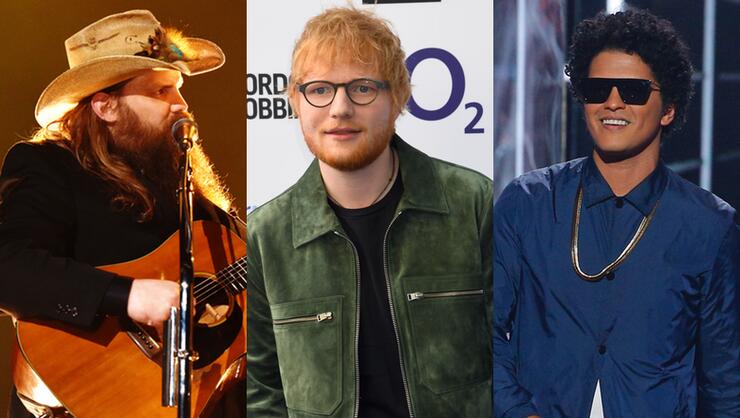 Ed Sheeran has linked up with Bruno Mars and Chris Stapleton for his latest jam, "Blow."
The mind-blowing joint, which appears as the closing track on Sheeran's forthcoming No.6 Collaborations Project, due out July 12, finds the English singer-songwriter switching lanes from his usual pop sound for rock-steady rhythms. "I'm feelin' like a bullet jumpin' out a gun/ I'm feelin' like a winner, I feel like the one," the 28-year-old belts in the opening verse. "You're doing somethin' to me, you're doing somethin' strange/ Well, jump back, talk to me, woman."
From there, the country crooner and R&B star keep up the song's intense momentum with all three musicians singing of wanting to take their shots with women who drive them crazy. "Supernatural woman, supernatural freak/ Don't know what you're doin', got me feelin' weak," Stapleton follows, as Mars chimes in with, "You red leather rocket, you little foxy queen … Baby, tell me, what's your fantasy?"
Sheeran unveiled "Blow" Friday (July 5) in tandem with the premiere of another new track with Yebba called "Best Part of Me." Both cuts are set to appear on No. 6. Collaborations alongside Sheeran's previously-released Khalid collab "Beautiful People," "Cross Me" featuring Chance the Rapper and PnB Rock, and his Justin Bieber team-up, "I Don't Care."
Listen to Ed, Bruno, and Chris on "Blow" below.
Chat About Ed Sheeran Taps Bruno Mars & Chris Stapleton For New Rock Song 'Blow'