Katy Perry Spills Details On How Taylor Swift Feud Finally Ended
By James Dinh
July 17, 2019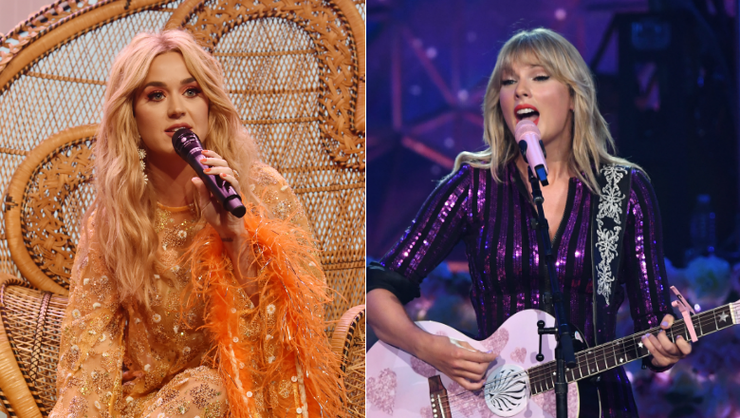 Katy Perry is making the Australian promo circuit to push "Never Really Over" and the pop star's recent radio interview with KIIS 1065 heard the star share details about her reunion with Taylor Swift.
During the phone interview with the "Kyle and Jackie O Show," the 34-year-old star recalled her initial steps to mend the years-long wounds that occurred because of a back-up dancer quarrel. "Well, it kind of was a process. I sent her a literal olive branch and a note apologizing for my part in all of it when she started her 'Reputation Tour,'" the star divulged about the reconciliation, which was put on display in Swift's latest music video for "You Need to Calm Down." "I just thought she was about to embark on something new and big and needed the support."
"Truly, it was as I was finishing mine, I realized how much we have in common and maybe there's only five other people in the world that can have the same type of conversations and understand where we're coming from and that we should celebrate our commonality our friendship and to be able to be there for each other," she continued.
Perry went on to reveal that the two started bumping into each other at industry events and she wanted to squash any awkwardness that might arise. "I just went up to her and I was like, 'Hey, you know it's been a long time and I think we've grown up a little bit and I just wanted to say I'm sorry and I'm really here for you and that I love you and I hope that we can be friends in the future,'" she explained. "We started talking a little bit and trusting each other because it's about trusting."
It was that bond that prompted each other to exchange phone numbers and conceptualize their burger and fry reunion in Swift's music video. "She had this really cool idea and I said, 'Yeah let's talk about it,' and she invited me over to her house and she made me some cookies and she actually makes those cookies and they're actually delicious," she recalled. "We'll see each other in the halls of the music industry and not avoid each other, we'll embrace. And I think it's amazing that we've had this opportunity to change and I just hope other people can learn from it too."
Chat About Katy Perry Spills Details On How Taylor Swift Feud Finally Ended