Thomas Rhett & Wife Are Having Another Baby— Find Out If It's A Girl Or Boy
By Lindsey Smith
July 23, 2019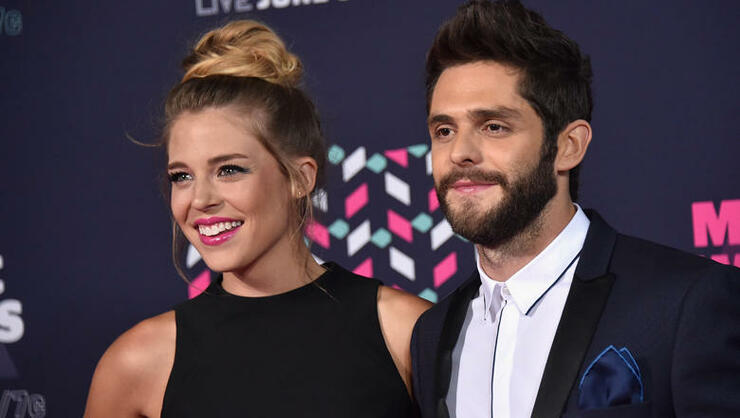 It's a party of five for Thomas Rhett and wife Lauren Akins! 
The "Look What God Gave Her" singer revealed on Tuesday (July 23) that the family is expanding by one. Not only did he announce his wife was pregnant but he also revealed they're having another girl!
TR took to his Instagram to announce the news in the sweetest family photo featuring all his girls. His daughters Willa Gray and Ada James are seen touching their mama's growing belly. "Excited to share that I will now be paying for 3 weddings," he wrote. "I feel so blessed to say that our third child is on the way and it's a girl!!"
Lauren also posted the photos along with snaps and a hilarious video of the family finding out it's a girl.
It's safe to say the country singer was so shocked to learn he'd be outnumbered yet again with another little girl on the way. "We decided we didn't have enough princess dresses around the house so we're adding another Akins baby girl to the family early next year," Lauren wrote in her caption. "We are absolutely over the moon for our baby girl! Our girls cannot wait to meet their little sister. Willa Gray prays for her every night… she and Ada James love to touch my belly and talk to her."
Lauren also revealed that she's been showing since she was seven weeks pregnant and felt like she was hiding the pregnancy for "eternity." She also joked that she was unsure if she was pregnant or "just puked for a living" before finding out.
The couple is currently mom and dad to two daughters — Willa Gray and Ada James — Willa Gray was adopted in May 2017 and Ada James was born just a few months later in August 2017.
Congrats to the family!
Chat About Thomas Rhett & Wife Are Having Another Baby— Find Out If It's A Girl Or Boy