Kodak Black Threatens To Harm Pregnant Yung Miami, Her Boyfriend Responds
By Peyton Blakemore
July 30, 2019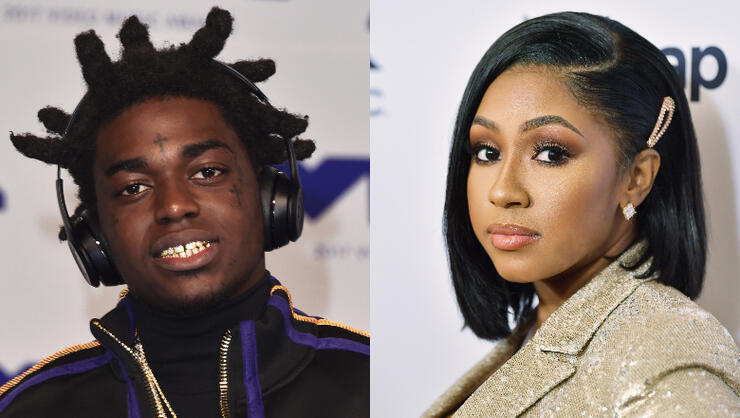 Kodak Black's latest freestyle from behind bars is making headlines for all the wrong reasons.
On Monday (July 29), the imprisoned rapper's team shared a recorded phone call of Kodak spitting a few bars that refer to City Girls rapper Yung Miami. While at first the freestyle hints at Kodak previously having a romantic relationship with Yung Miami, who is pregnant with her second child, first with boyfriend Southside, it quickly turns dark as he threatens to punch the pregnant rapper in the stomach.
"I bought Yung Miami a ring, she wanted 808 baby," he raps, alluding to her pregnancy with the 808 Mafia producer. "When I see her I'ma hit that b*tch in her stomach/ The way I keep my sh*t too real, they say I'm f**king up my money."
It didn't take long before Southside got wind of the Kodak's threatening freestyle as he responded with a video of his own on Instagram Stories. "Somebody tell Kodak suck a d*ck," he said. "How about that? And get up out of jail first."
The "ZeZe" rapper then responded by taunting the producer, writing, "I ripped dat bih ainna?!! @808mafiaboss Put a beat to it," on his Instagram Story.
As fans know, Kodak is currently behind bars and will remain there until his weapons case is brought to trial in September. Back in May, a judge ruled that the South Florida rapper was a "danger to the community" in Florida, revoking his previously set $500,000 bond.
Days prior, the "Pimpin Ain't Eazy" rapper, who is also facing up to 30 years in prison for an on-going sexually assault case, was arrested at Rolling Loud Festival and slapped with a two-count indictment (that could put him away for 10 years) after a grand jury found he made false statements to try and purchase firearms. Kodak was granted a pre-trial release if he could post a $500k bond. However, state prosecutors appealed the judge's order and asked that he be kept behind bars because of his lengthy rap sheet.
And his latest threat against Yung Miami will certainly not improve his chances of getting from behind bars anytime soon.
Photo: Getty Images