Panic! At The Disco's 'I Write Sins' Almost Had A Totally Different Name
By Lindsey Smith
August 5, 2019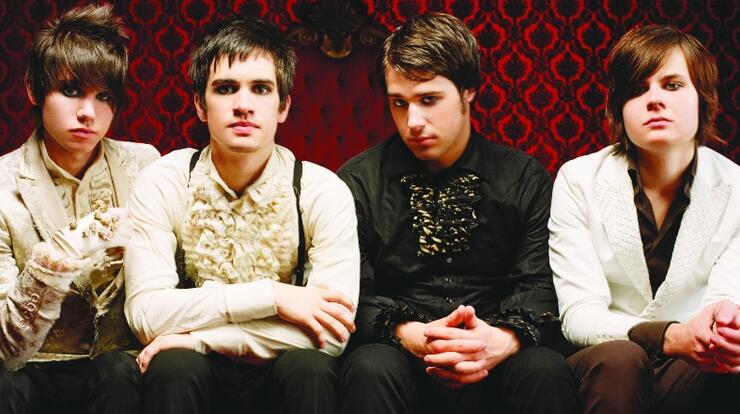 If you've been a fan of Panic! At The Disco since the early days, you'll know the band is infamous for long song titles like, "Lying Is The Most Fun A Girl Can Have Without Taking Her Clothes" and my personal favorite, "London Beckoned Songs About Money Written By Machines."
however, the songs on the band's debut album, A Fever You Can't Sweat Out, almost had completely different names that are unrecognizable from their now iconic titles.
Scott Nagelberg, the band's manager, recently unearthed the master CD to the album and it revealed all of the original names. "Unearthed the master of AFYCSO while packing up the apartment this weekend- almost 14 years old to the date," he wrote. "Nobody could have predicted the wild ride ahead with four kids who had never played a show outside of Vegas."
As it turns out, all but one song ("Time to Dance") had changed. Yes, this includes the band's smash hit "I Write Sins Not Tragedies." The other huge difference is that instead of the long names fans are used to, the original song names are only a couple words long. I don't know about you, but I'm glad they decided to change them all!
Compare the original song names to the ones that made it below:
1. "Intro" vs "Introduction"
2. "Applause" vs "The Only Difference Between Martyrdom And Suicide Is Press Coverage"
3. "NYC" vs "London Beckoned Songs About Money Written By Machines"
4. "Nails" vs "Nails For Breakfast, Tacks For Snacks"
5. "Relax" vs "Camisado"
6. "Time to Dance" vs "Time to Dance"
7. "Sweat" vs "Lying Is The Most Fun A Girl Can Have Without Taking Her Clothes Off"
8. "Interlude" vs "Intermission"
9. "Cabaret" vs "But It's Better If You Do"
10. "Flam Chorus" vs "I Write Sins Not Tragedies"
11. "Esteban" vs "I Constantly Thank God For Esteban"
12. "Top HAts" vs "There's A Good Reason These Tables Are Numbered Honey, You Just Haven't Thought Of It Yet"
13. "Favorite Things" vs "Build God, Then We'll Talk"
Chat About Panic! At The Disco's 'I Write Sins' Almost Had A Totally Different Name