Pregnant City Girls Rapper Yung Miami's Car Shot At In Miami
By Peyton Blakemore
August 6, 2019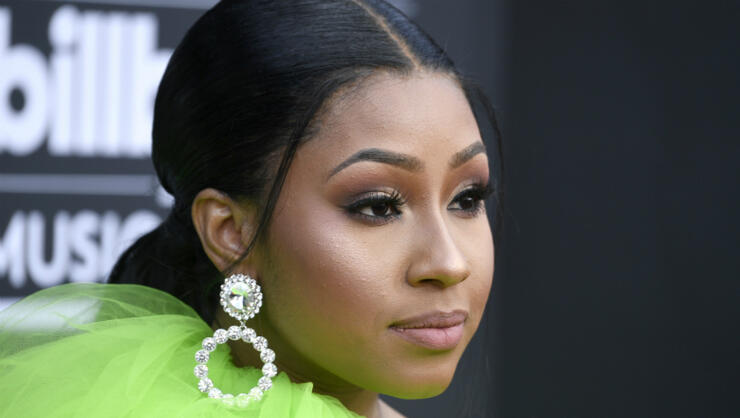 Yung Miami is okay after her vehicle was shot at early Tuesday morning (August 6).
According to multiple reports, the City Girls rapper, who is pregnant with her second child, first with boyfriend Southside, came under fire while she was leaving Circle House Studios in Miami following a recording session. A fan captured video of the aftermath, sharing a clip of Yung Miami, born Caresha Brownlee, speaking about the incident to police officers.
"They had they lights off, so I never saw them," the "Act Up" rapper explained to the officers. "I don't know where they came from behind [...] The shots came from behind."
The fan, who was also allegedly a witness to the shooting also gave her account of what happened on Instagram. "I got the story first because I was standing right there. Caresha new G Wagon was shot at leaving Circle House...YALL need to give her better security! Poor baby was running across the street tryna run b4 police came," they wrote. "Smh wow prayers for her and baby 808's protection."
Prior to the shooting, Yung Miami shared a clip of her in the studio to Instagram Stories, hinting at new music.
Details are still coming in about the shooting.
As fans know, it's been quite the week for Yung Miami. Last Monday (July 29), Kodak Black threatened to harm the City Girls rapper in a freestyle he recorded from jail. Kodak's team shared the recorded phone call of him spitting the bars that mention Yung Miami to Instagram. While at first the freestyle hints at Kodak previously having a romantic relationship with the pregnant rapper, it quickly turns dark as he threatens to punch her in the stomach.
"I bought Yung Miami a ring, she wanted 808 baby," he raps, alluding to her pregnancy with the 808 Mafia producer. "When I see her I'ma hit that b*tch in her stomach/ The way I keep my sh*t too real, they say I'm f**king up my money."
It didn't take long before Yung Miami's boyfriend Southside got wind of the Kodak's threatening freestyle as he responded with a video of his own on Instagram Stories. "Somebody tell Kodak suck a d*ck," he said. "How about that? And get up out of jail first."
The "ZeZe" rapper then responded by taunting the producer, writing, "I ripped dat bih ainna?!! @808mafiaboss Put a beat to it," on his Instagram Story.
Photo: Getty Images