Nipsey Hussle Calls Out Tekashi 6ix9ine On New Rick Ross Album
By Hayden Brooks
August 9, 2019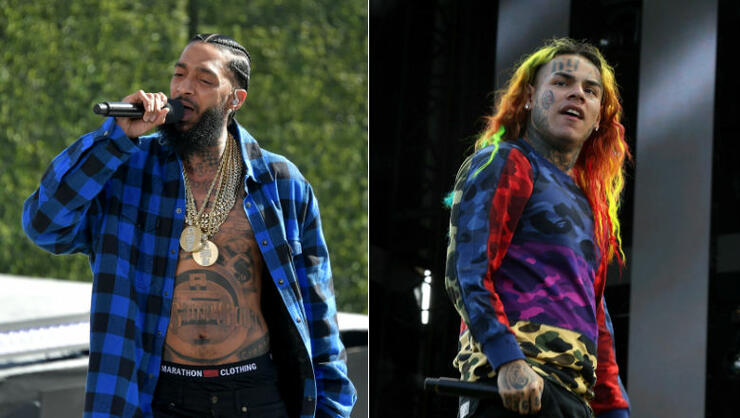 Rick Ross' new album, Port of Miami 2, features a load of collaborations with Drake, Lil Wayne and Denzel Curry, but his Nipsey Hussle team-up has the extra steam.
If you've listened to Rozay's 10th studio album, more specifically "Rich Ni**a Lifestyle," you already noticed that that the late rapper made references to Tekashi 6ix9ine, who struck a plea deal (without bail) with the feds in his racketeering case. "When it's war time never lay low/ Y'all play roles/ I can't name a fake ni**a that was not exposed/ How y'all ni**as so surprised that Tekashi told?/ Ain't a real street ni**a 'less you got a code,'" the late MC spits on the Cardiak-produced track, which also features Teyana Taylor.
Hussle is the latest of many stars to call Tekashi out for "snitching," including Snoop Dogg and YG. Earlier this summer, it was reported that Hussle and Lauren London's two-year-old son, Kross Asghedom, is reportedly set to inherit one million dollars from the late rapper's estate.
As we've previously reported, Tekashi entered a guilty plea for nine federal charges against him, including multiple counts of racketeering, conspiracy, firearms offenses, and narcotics trafficking. He was previously facing 32 years to life after being charged with six federal crimes. Additional charges were added while he was in prison. He will be sentenced on January 23, 2020.
Chat About Nipsey Hussle Calls Out Tekashi 6ix9ine On New Rick Ross Album