Drake Gets Beatles Tattoo After Breaking A Number Of The Band's Records
By Peyton Blakemore
August 10, 2019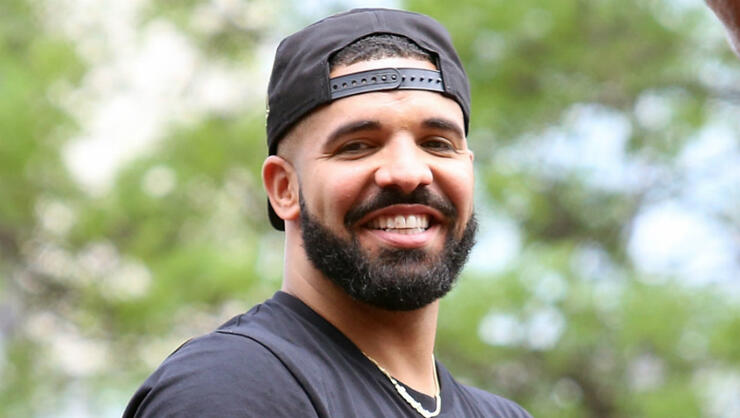 To use Drizzy Drake's own words, he "got more slaps than The Beatles" and now he's got the ink to prove it.
Adding to his already long list of tribute tattoos, the "Money In The Grave" rapper paid homage to the British band by getting a Beatles tattoo on his outer forearm.
After breaking a number of their longstanding Billboard records, Drake got a tattoo that is inspired by The Beatles' 1969 Abbey Road album cover. The ink shows a figure, who's seemingly Drake, as the fifth Beatle, standing in front of John Lennon, Paul McCartney, George Harrison, and Ringo Starr waving. (You gotta love the creativity!)
Following the release of Scorpion in June 2018, Drake passed The Beatles' record for most songs simultaneously in the Billboard Hot 100's Top 10. And just four months later, he earned 12 tracks on the Hot 100's Top 10 in a calendar year, surpassing the Beatles' record of 11. This past June, he earned the second-most Hot 100 Top 10s ever, with 35, topping the British band, and putting him second, only behind Madonna who has 38.
The hitmaker is so good at what he does, even after he gave his fans less than 24 hours warning that he was dropping a new compilation album, Care Package, that featured no new tracks just some of the most beloved songs of his career, the album became one of the most-talked about and played projects of the month.
The 17-track album features "The Motion," "How Bout Now," "Trust Issues," "Days In The East," "Draft Day," and more. Drake even included "Can I," which was leaked around the time he released Views, as well as "Dreams Money Can Buy," which was released between his Thank Me Later and Take Care albums. Care Package will also feature appearances by J. Cole, Rick Ross, and James Fauntleroy.
Photo: Getty Images