Demi Lovato To Make Return To Acting In Netflix's 'Eurovision'
By Lindsey Smith
August 21, 2019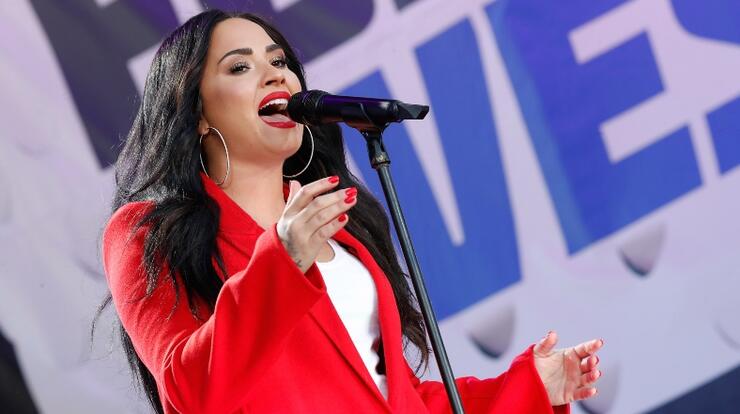 It's been nearly four years since we've seen Demi Lovato in a live-action acting role after she played "Maia" in From Dusk Till Dawn: The Series in 2015 — but she's finally back!
On her 27th birthday (August 20), Lovato surprised her fans via Instagram with some pretty exciting news. The "Tell Me You Love Me" singer announced that she would be joining the cast of the Netflix film Eurovision.
The announcement comes from actor Will Ferrell who also stars in the film alongside Rachel McAdams and Pierce Brosnan. "y'all, Will Ferrell made me a cake...from scratch. It looks completely professional and store bought so I'm not at all suspicious that he baked it himself in all of his free time #netflixisajoke #eurovisionmovie," Lovato captioned the Instagram video.
At the end of the clip, Lovato can be seen blowing out the candles on the cake to celebrate her birthday and her new role. At the time of publishing, her character's name and role in the film have not been announced.
Eurovision is based on the infamous annual Eurovision Song Contest that you may see taking over your Twitter feed every spring. Countries from all over Europe have a representative sing an original song to be performed on TV and radio until a final winner is crowned. 
The film's synopsis reads:
Aspiring Icelandic musicians Lars Erickssong (Will Ferrell) and Sigrit Ericksdottir (Rachel McAdams) journey as they are given the once-in-a-lifetime chance to represent their country at the world's biggest song competition.
Watch the announcement below!
Chat About Demi Lovato To Make Return To Acting In Netflix's 'Eurovision'