Tom DeLonge Injured His Back After The First Angels & Airwaves Show Of 2019
By Katrina Nattress
August 30, 2019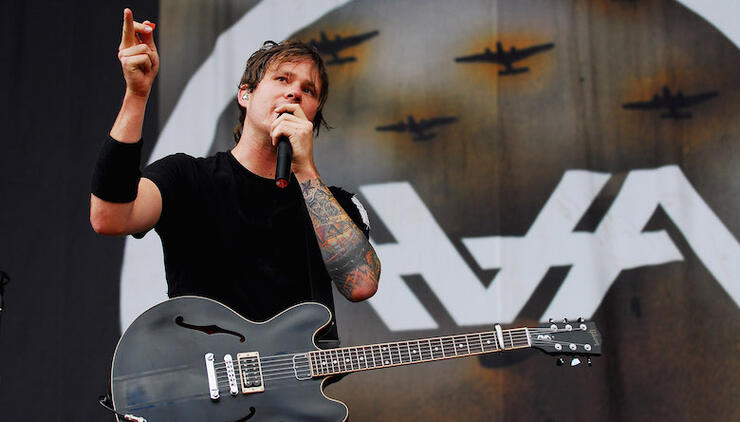 Tom DeLonge may not be as spry as he used to be back in his early blink-182 days, but he's not letting that stop him from rocking out. On Thursday (August 29) Angels & Airwaves played their first show in seven years at the Belly Up in San Diego, and the following day the frontman posted a photo from the hospital on Instagram.
"This is what happens when you have a bad back, and then your neck slips a disc as well," he captioned the picture before assuring fans that tour is still going according to plan. "All is good, Tour is happening- just needed a few drugs injected into my spine #yuck"
Check out the post below.
Before the show, AVA premiered a new song called "Kiss & Tell" that features some serious Box Car Racer vibes. They debuted that, as well as "Rebel Girl," live during the hometown show. Tom also gifted fans with an acoustic medley of blink's "Miss You" and "Aliens Exist," along with BCR's "There Is." Check out footage of the medley and the full 22-song set list below.
Angels & AIrwaves Belly Up Setlist
Overload (Live debut)
It Hurts
Everything's Magic
Paralyzed (Live debut)
Moon as My Witness
Anxiety
The Wolfpack (Live debut)
Kiss With a Spell (Live debut)
Surrender
Drum Solo
Rebel Girl (Live debut)
The Adventure
Anomaly (Live debut)
I Miss You (blink-182 cover) (verse and chorus acoustic)
There Is (Box Car Racer cover) (verse and chorus acoustic)
Aliens Exist (blink-182 cover) (verse and chorus acoustic)
Hallucinations
Young London
Breathe
Kiss and Tell (Song debut)
Encore:
Do It for Me Now
Heaven
Photo: Getty Images
Chat About Tom DeLonge Injured His Back After The First Angels & Airwaves Show Of 2019