Tom DeLonge Explains Why Angels & Airwaves Is His Most Punk Project To Date
By Katrina Nattress
September 3, 2019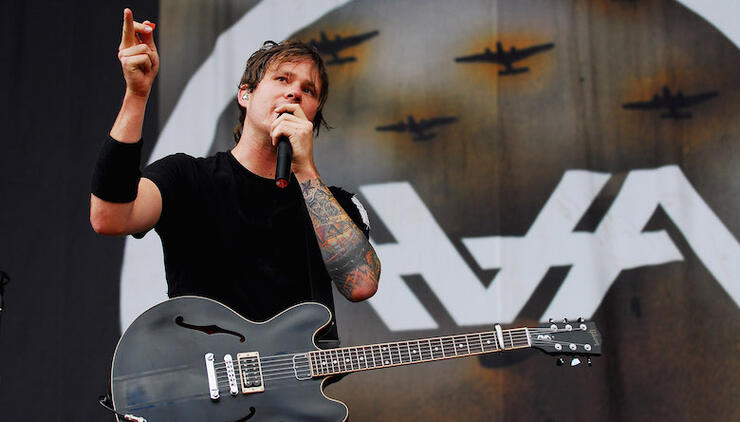 When you listen to Angels & Airwaves, the first thought that comes into your head is probably not "this is punk music," but if you ask the band's founder Tom DeLonge, it's the most punk thing he's ever done (yes, even more so than blink-182). The musician recently shared a lengthy post on Instagram explaining his logic.
"Punk Rock since birth, but definitely a bit more spiritually evolved at this age," he began the note, which is accompanied by a live photo from an AVA show. "People often forget that 'punk' is not a haircut, or a patch on your jacket, and it's def not a specific musical style... It's just a mechanism to communicate unorthodox points of view- which often can be rebellion, anger, or, sometimes ridiculous off-color humor- ha."
"With @angelsandairwaves I wanted to communicate a change happening within myself," he continued. "I wanted to say something much more genuine. That was scary as hell to do. It's easy to scream an obscene joke, or to make something rhyme and sound tough, to just 'act' cool.... but, it's super hard to REALLY put yourself out there to be judged, and to be vulnerable in the public eye. To let people know what you really feel inside- under all the jokes, the fashion, and the facade that makes up one's ego. Like, when you meet a pretty girl for the first time and 'act' cool, calm and collected... but, the authentic thing would be to say 'I feel like a teenager, and I hope to god you kinda like me, as I am scared to death you don't care at all about this encounter' - get it? Two different faces of the same person. Well, /\\//\ is my real face. And that is the most punk thing I could do... nothing less, than to be shamelessly truthful. Let the tour begin. See you soon America."
Despite DeLonge spending some time in the hospital last week, AVA hit the road on a North American tour tomorrow (September 4). Check out a full list of dates here and check out DeLonge's lengthy Instagram post below.
Chat About Tom DeLonge Explains Why Angels & Airwaves Is His Most Punk Project To Date