Billie Joe Armstrong Hints At Green Day, Weezer, Fall Out Boy Tour
By Andrew Magnotta @AndrewMagnotta
September 9, 2019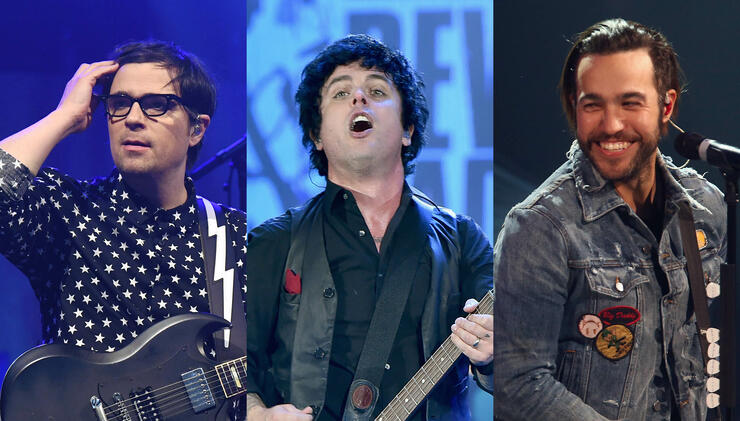 A recent comment left on Instagram by Green Day front man Billie Joe Armstrong has fans speculating about what could be one of the biggest tours of the decade.
On Saturday, Armstrong left a reply to an Instagram post by actor Rainn Wilson in which the singer also tagged Fall Out Boy bassist Pete Wentz and Weezer front man Rivers Cuomo, alongside the words "hella mega."
Fans investigated and quickly uncovered a password-protected site at the URL HellaMegaTour.com.
The fact that Armstrong would drop a hint on the Instagram account belonging to The Office star is strange, but when you visit the Hella Mega Tour website, you'll find a .gif of Wilson, as his character Dwight Schrute, shushing the camera.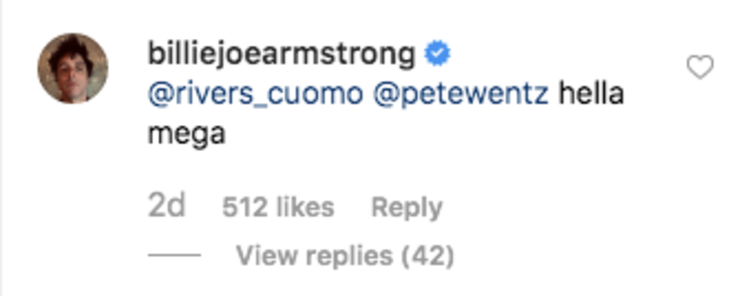 The comment in question was also entered on a video of Wilson slurping up a latte depicting Shrute's face. It sounds dumb explaining it, so just look at it at the bottom of this page or here.
There are also Facebook, Twitter and Instagram accounts set up with the Hella Mega Tour moniker. Some fans have also reported getting mailed mismatched merchandise that they didn't order, including on shirt depicting the members of Green Day beneath the words "Fall Out Boy" and another shirt depicting members of Fall Out Boy on a Weezer design.
Furthermore, flyers were handed out near a Philadelphia concert venue that also linked the three bands.
Green Day has reportedly been working on a new album since last year.
Weezer front man Cuomo said during the iHeartRadio Album Release Party for 'The Black Album' this winter that one of his band's upcoming records — titled Van Weezer — was written, in part, for a "big stadium/arena rock tour" that they have booked.
"So we're like, 'All right, we need to come with some rock riffs, so we decided to make a super heavy riff record," he said.
Weezer has tour dates announced through November, while Green Day and Fall Out Boy do not have any live shows announced at the moment.
Photo: Getty Images
Chat About Billie Joe Armstrong Hints At Green Day, Weezer, Fall Out Boy Tour