Guns N' Roses To Play Intimate Los Angeles Theater Saturday
By Andrew Magnotta @AndrewMagnotta
September 18, 2019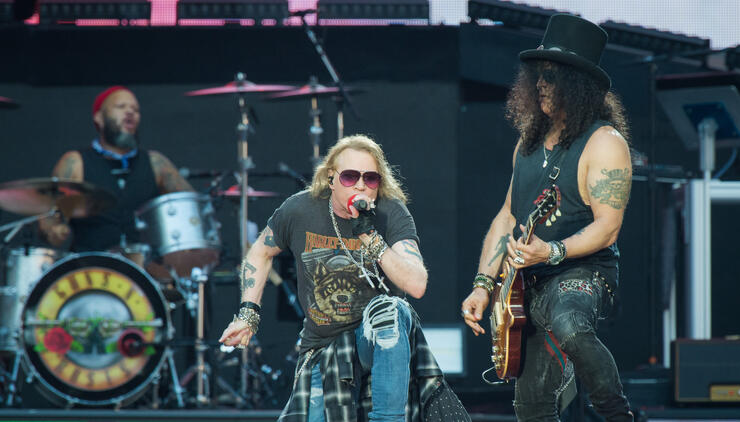 One of the biggest rock bands in the world is scaling down its stadium show to fit in a much more modestly-sized venue this coming weekend.
On Saturday, September 21, Guns N' Roses will play the iconic Hollywood Palladium, as part of the Citi Sound Vault series.
It will be the first time in over 10 years that the band has played the Palladium and the first time since core members, Slash and Duff McKagan, returned to the group in 2016.
As small venues go, the 5,000 capacity Hollywood Palladium is enormous. But the theater is by far the smallest venue GNR has played on its 'Not in This Lifetime' tour, since its surprise reunion show at The Troubadour in West Hollywood in 2016. 'Not in This Lifetime' recently became one of the most profitable tours of all-time.
Citi card members can register to unlock access to tickets via Verified Fan until 10 p.m. Pacific Time today, September 18. Starting at 9 a.m. on September 20, fans who have received a unique code will have the chance to use their Citi card to purchase tickets for the next day's show.
There is also a limited allotment of tickets for the band's Nightrain fan club.
Guns N' Roses has tour dates announced into this coming November. Get all the tour dates here.
Slash hinted recently that the band is also plotting some dates in March of 2020, but it's unclear how many shows or where they will take place.
The guitarist also revealed that writing new music is a top priority for the band this fall. All the band members, however, have been tight-lipped as to when fans will get to hear new GNR songs.
Photo: Getty Images
Chat About Guns N' Roses To Play Intimate Los Angeles Theater Saturday