Shawn Mendes & Camila Cabello Wear Halloween Masks To Troll Paparazzi
By Paris Close
September 19, 2019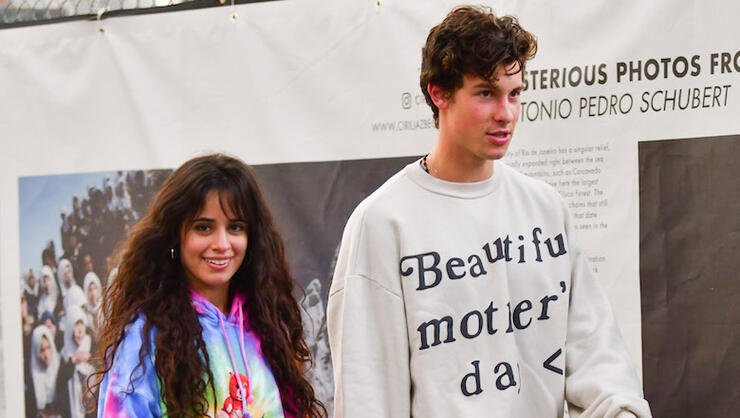 Camila Cabello and Shawn Mendes are a couple of pranksters.
The rumored lovebirds got the last laugh this week during a quick shopping trip in West Hollywood. In a video captured by paparazzi on Wednesday (September 18), Cabello and Mendes were just leaving Aahs!, a novelty gift store in the district, when the pair popped out wearing ridiculous Halloween masks to cover their faces.
The "Lost in Japan" musician opted for a creepy baby mask, while his beloved sported a unicorn mask. The "Havana" songbird, teasing photographers, even struck a few playful poses for the cameras before making a break for it.
Watch the funny moment below.
Shawmila's Halloweeny publicity stunt is the latest in a series of amusing antics from the stars.
Just last week, the "Señorita" sweethearts shared a video of them proving their fans wrong about them being awkward kissers. "We saw on Twitter and stuff you guys saying stuff about the way we were kissing and how it looks weird. Like, we kiss like fish," Mendes addressed fans in a video alongside Cabello on Instagram, to which she added the gossip "really hurt our feelings."
To poke fun back at followers about their poor lip-locking skills, the superstars jokingly went in for the sloppiest smooch ever, setting the internet a blaze once again.
In related news, Cabello is performing at this year's iHeartRadio Music Festival in Las Vegas in September alongside a lineup of superstar artists. Fans across the country can tune in and watch an exclusive live stream of the show via The CW App and CWTV.com. Then, on October 2nd and 3rd, relive all of the epic performances from the weekend during a televised special on The CW Network at 8pm ET/PT. And leading up to the official television special, The CW will also air an hour-long Best Of Special on Sunday, September 29th at 8 p.m. ET/PT.
Photo: Getty Images