Panic At The Disco And Weezer Are Featured On The 'Frozen 2' Soundtrack
By Katrina Nattress
September 30, 2019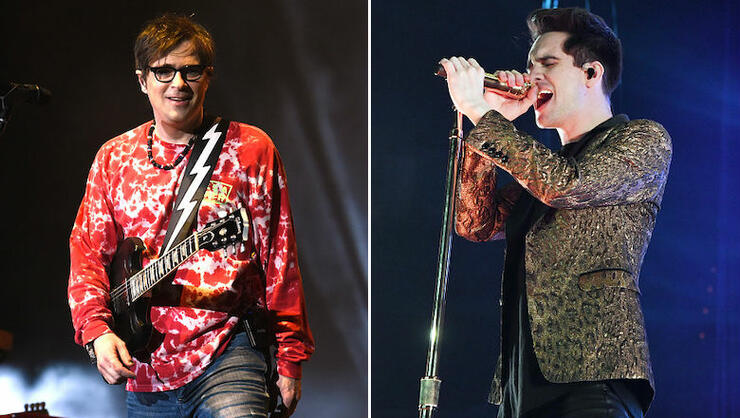 As the release date for Frozen 2 looms closer, Disney has been teasing us with trailers and introducing us to new cast members. Now, the studio is getting us even more excited by sharing the soundtrack's tracklist. The album includes seven original songs written by Frozen's Oscar-winning songwriters Kristen Anderson-Lopez and Robert Lopez, all performed by the film's vocal cast, including Kristen Bell, Idina Menzel, Josh Gad, Jonathan Groff and Evan Rachel-Wood, as well as tracks from the movie's original score by Christophe Beck. But that's not all.
In addition to the original songs, some big name artists recorded their own renditions of specific numbers. Panic! At the Disco (performing "Into the Unknown"), Weezer (performing "Lost in the Woods"), and Kacey Musgraves (performing "All is Found") will all appear in the film's end credits.
The Frozen 2 soundtrack is slated to come out November 15 — a week before the movie's November 22 release date. Check out the full tracklist below.
Frozen 2 Original Soundtrack Tracklist
1. "All Is Found," performed by Evan Rachel Wood
2. "Some Things Never Change," performed by Kristen Bell, Idina Menzel, Josh Gad and Jonathan Groff
3. "Into the Unknown," performed by Idina Menzel (feat. AURORA)
4. "When I Am Older," performed by Josh Gad
5. "Reindeer(s) Are Better Than People (Cont.)," performed by Jonathan Groff
6. "Lost in the Woods," performed by Jonathan Groff
7. "Show Yourself," performed by Idina Menzel and Evan Rachel Wood
8. "The Next Right Thing," performed by Kristen Bell
9. "Into the Unknown," performed by Panic! At the Disco (end credits)
10. "All Is Found," performed by Kacey Musgraves (end credits)
11. "Lost in the Woods," performed by Weezer (end credits)
Photo: Getty Images
Chat About Panic At The Disco And Weezer Are Featured On The 'Frozen 2' Soundtrack