Jason And Brittany Aldean Give Fans A Look Inside His New Tour Bus
By Blake Taylor
October 1, 2019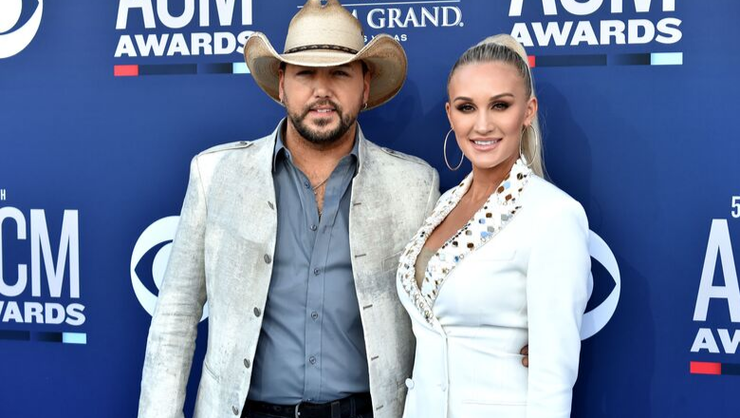 When you spend as much time on the road as country music artists like Jason Aldean, it's important that your tour bus feels as homey as possible.
On Sunday (September 29) the "We Back" singer's wife, Brittany shared a video of the bus with her fans on Instagram. In the clip the couple takes viewers inside their home away from home.
"A much requested Bus Tour!! Swipe right to see it all!" Brittany wrote in the caption of the post. The two start at the front of the bus in the living room area where the country star shows off one of his favorite spots, the recliner.
The front half of the bus also features, not one television, but three, so that the family can watch three different shows at once. Aldean noted this comes in handy when he wants to watch college football on Saturdays.
As the tour continues, they make their way towards the back of the bus where the family sleeps. The bus has four bunks, two include televisions at the end and the other two are cribs for their young children, son Memphis and daughter Navy.
The master bedroom shows photos of the family and a photograph of Aldean performing with George Strait. Additionally, the bedroom has a large television in the bedroom and another in the bathroom to watch from the shower. It's safe to say, no one is going to be missing any college football with all the televisions!
The tour bus also features four closets, all for the country singer himself. "I keep all my clothes on here, all my stage clothes, just lounging clothes for the bus," Aldean explains. "I keep it all on here so every week I don't have to pack a suitcase and come out, I just kind of come out and get on the bus."
He goes on to give Brittany a hard time joking about the huge suitcases she hauls on the bus. "She comes out, she has two giant suitcases. And then when the kids come, they have their own suitcases. I come with my wallet."
Check out the video below to see the decked out tour bus for yourself. Aldean just recently wrapped up his "Ride All Night Tour" on Saturday (September 28) in Detroit. He will hit the road again in 2020 for his "We Back Tour" with opening acts Morgan Wallen, Riley Green and Dee Jay Silver.
Chat About Jason And Brittany Aldean Give Fans A Look Inside His New Tour Bus