Roger Waters Says He Tried To Make Peace With David Gilmour This Summer
By Andrew Magnotta @AndrewMagnotta
October 3, 2019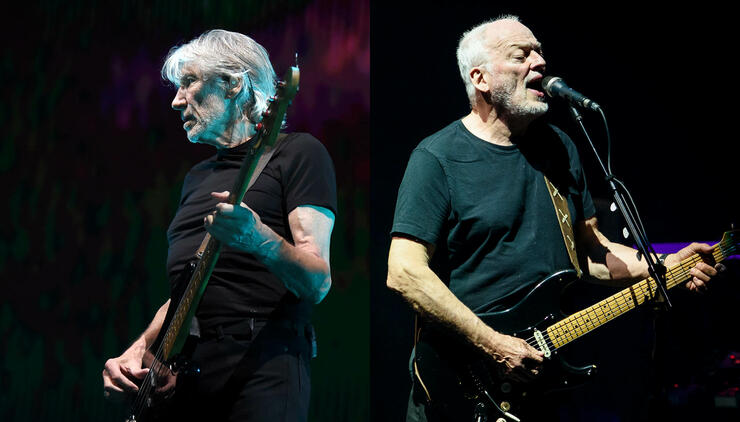 Roger Waters says the ongoing rift between himself and former Pink Floyd band mate David Gilmour hasn't persisted over the years for lack of effort by the two sides to come together.
The Pink Floyd co-founder and bassist Waters says he and Gilmour met over the summer to discuss some long-simmering issues, but they weren't able to come to settle anything.
Waters revealed the effort to mend fences with Gilmour in a recent interview with Rolling Stone. He congratulated Gilmour for donating millions in proceeds from his June guitar auction to fight climate change, then lamented Gilmour's ongoing control over the Pink Floyd brand.
"We spoke in June," Waters explained. "We had a big meeting where I came up with a big peace plan that has come to nothing, sadly."
The Rock and Roll Hall of Famer said he understands that "all Pink Floyd fans" are rooting for the two to make peace, but he added that their separation isn't the worst thing in the world because it allowed him to move forward.
"Well, thank goodness I've been able to get on with my work," Waters said.
He reaffirmed his continuing admiration for Pink Floyd drummer Nick Mason, and Mason's new band which pays tribute to Pink Floyd's early work.
Mason himself remains friends with both Waters and Gilmour. The drummer explained this past spring that the Waters and Gilmour's relationship has had challenges that go back decades. He noted that in his experience with each man, they are "happier" away from one another.
Waters' latest concert film, Us + Them, is set for one more worldwide screening on October 6. Get more details here.
Photo: Getty Images
Chat About Roger Waters Says He Tried To Make Peace With David Gilmour This Summer