Thomas Rhett Prays For Kane Brown At CMT Artists Of The Year
By Blake Taylor
October 17, 2019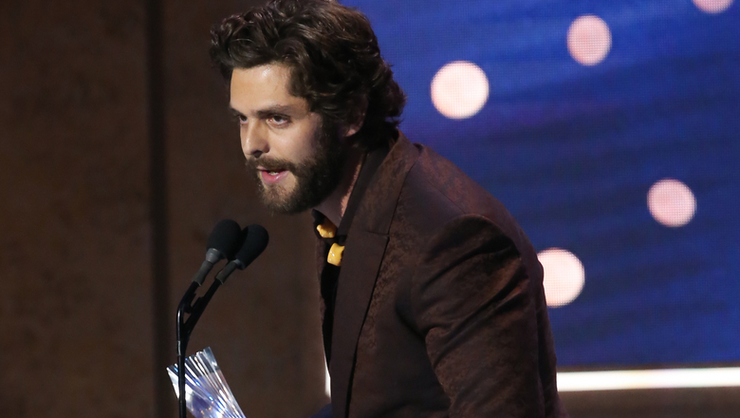 Thomas Rhett turned to his faith during his acceptance speech at the 2019 CMT Artists of the Year event on Wednesday night (October 16). While on the stage the country singer asked the audience to pray with him and lift up fellow country artist and honoree, Kane Brown along with other loved ones of Kenny Dixon, Brown's drummer who died in a car accident on Saturday (October 12).
Earlier in the night, Brown himself took the stage to tearfully accept his 2019 CMT Artists of the Year award, which he dedicated to his longtime drummer. When it was Rhett's time to be honored, he decided to use his acceptance speech as a time of prayer showing support to Brown and his team.
"I just want to lift up Kane and his family," Rhett said to the audience from stage. "And I want to lift up his drummer, and their family. And I don't know if this is very conventional, but can I just pray? Really fast. Is that ok with everybody?"
The audience cheered in reply, so Rhett continued on. "Father God, we love You so much. Loss is something that we can't comprehend and so right now I pray that you will be with Kane and his family, and his drummer Kenny and his family, and bring them peace that only You know how to bring somebody."
Rhett concludes his prayer with, "Thank you for this night. God bless country music. We love You Jesus. In your name we pray, Amen."
Rhett's bold choice to pray was moving to everyone watching, including the 2019 CMT Artist of a Lifetime honoree, Reba McEntire. Later in the night while giving her acceptance speech, she gave her approval for Rhett's leap of faith saying, "Thomas Rhett, God bless you for praying in front [of us]. You're special. That took guts." She adds, "Because that's what we need in our lives, is a little more God. We've got to give this world back to God."
Chat About Thomas Rhett Prays For Kane Brown At CMT Artists Of The Year