Carrie Underwood Announces New Single, 'Drinking Alone'
By Blake Taylor
October 29, 2019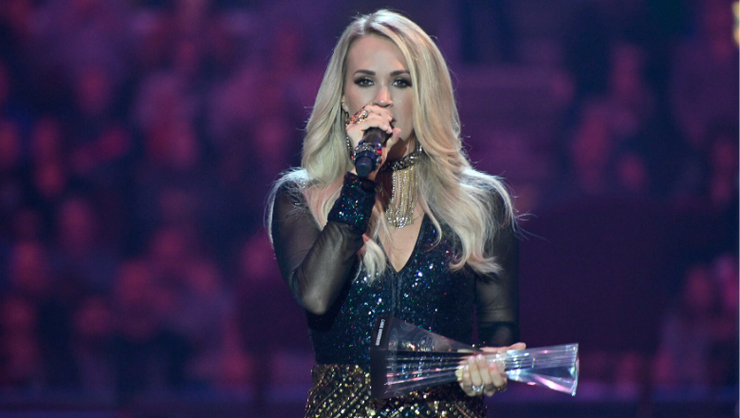 Carrie Underwood will follow up her previous single, "Southbound" with the release of "Drinking Alone." The song, written by Underwood alongside David Garcia and Brett James, is the fourth single off her 2018 album, Cry Pretty.
"Drinking Alone" finds the main character of the story seeking company at the bar, but without taking it too far. They simply want the company of someone who is feeling equally as heartbroken, drinking the pain away.
"We should be drinkin' alone together / Drownin' the pain is better / With somebody else who got problems / We ain't gonna solve 'em / The misery loves company," Underwood sings.
The news of Underwood's new single comes just weeks before she's set to co-host the 2019 CMA Awards on November 13 alongside co-hosts, Reba McEntire and Dolly Parton. Underwood received multiple nominations herself including one for Entertainer of the Year. She's the only female in the big category up against Garth Brooks, Eric Church,Chris Stapleton and Keith Urban.
Fellow female country star, Miranda Lambert recently vocalized her support for Underwood, declaring she should be Entertainer of the Year. "That iconic voice has been classin' up our stages, charts and televisions for a decade and a half," Lambert says of Underwood. "She blows me away every time I hear her sing. She never wavers in who she is or what she stands for. She has stayed true & pushed herself to be better."
Underwood is currently out on the road for her "Cry Pretty Tour 360" wrapping up on October 31 in Detroit, Michigan. The tour features opening acts Maddie & Tae and Runaway June along with occasional appearances from her son, Isaiah who's been named "Mayor of Cry Pretty 360 Tour."
Most recently though, Underwood's mom, Carole has stolen the show. Last weekend, Carole joined her daughter on stage for a performance of "The Champion." She rocked the house as she belted the rap portion of the track, originally sung by Ludacris. Check out the epic performance below.
Chat About Carrie Underwood Announces New Single, 'Drinking Alone'