Jason Aldean Is Changing His Diet To Lose Weight And Get Back In Shape
By Blake Taylor
October 30, 2019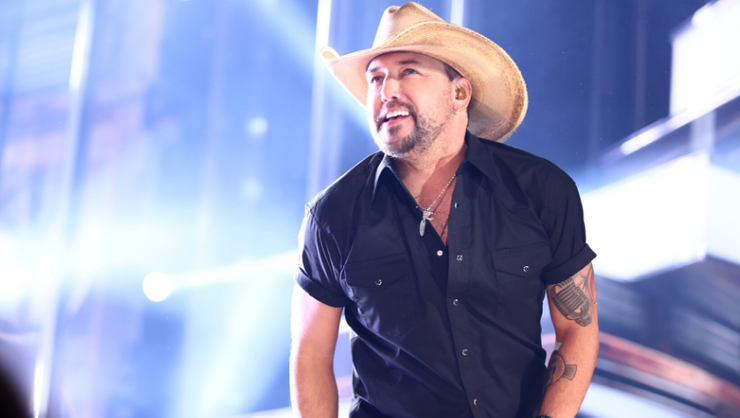 Growing up, Jason Aldean, was able to maintain a slim physique with minimal effort. However, as time went on and he got older, he's realized it's not as easy as it once was.
"I've always been pretty thin," Aldean shares with PopCulture. "And then you start getting close to 40 and then it stops working for whatever reason."
Aldean says his struggle wasn't from eating too much, but on the contrary, eating too little of the wrong kinds of foods at the wrong time of day. The singer goes on to explain that life on the road has a lot to do with the eating habit he's developed over the years.
"Being on the road, you just fall into the groove of just eating crap all the time, and just eating at the wrong time of day, when you come off stage at night," Aldean says.
Aldean recognized the unhealthy pattern he'd developed and decided to meet with a nutritionist to help make some changes. His new diet is loaded with high-protein foods and vegetables without added sugar and carbs.
"It's not rocket science," Aldean adds. "Protein is the key and carbs, not eating those is the other key."
Living a healthy lifestyle has become a family affair for the Aldeans. The "We Back" singer's wife, Brittany, recently became a spokesperson for the low-card South Beach Diet. With a busy schedule herself, Brittany revealed her secret to a healthy lifestyle is being as "naturally active" as possible. "I like to do activities," she tells People, adding that she enjoys going on walks with her kids.
Aldean continues to share new music from his upcoming album, 9, set for release on November 22. Additionally, the country singer recently announced he plans to his the road in 2020 for his "We Back Tour." The 20-city trek will kick off on January 30 and run through March 14, wrapping up in St. Paul, Minnesota. Joining him on the journey will be special guests Morgan Wallen, Riley Green and Dee Jay Silver.
Photo: Getty Images
Chat About Jason Aldean Is Changing His Diet To Lose Weight And Get Back In Shape