Rage Against The Machine Announces 2020 Reunion
By Andrew Magnotta @AndrewMagnotta
November 1, 2019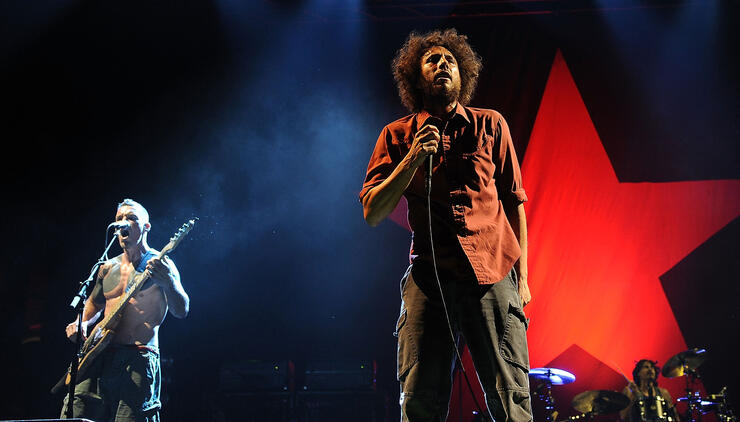 Rage Against the Machine is coming back!
The iconic alternative band that has inspired generations of hip hop, heavy metal and political rebellion has announced five concerts in 2020, including two shows at next year's Coachella Valley Music and Arts Festival.
News broke Friday morning when a yet-to-be-verified Instagram account @rageagainstthemachine shared its first photo with a caption including five dates and locations.
Rage Against The Machine 2020 Tour Dates
March 26, 2020 - El Paso, Texas
March 28, 2020 - Las Cruces, New Mexico
March 20, 2020 - Phoenix, Arizona
April 10, 2020 - Indio, California
April 17, 2020 - Indio, California
Forbes later confirmed with a longtime band associate, Wayne Kamemoto, that "The band's social media is accurate."
Band members Tom Morello, Brad Wilk, Tim Commerford and Zack De La Rocha have yet to address the hubbub. But the photo shared by the purported band account is the same one depicting political unrest in Chile that Morello himself shared four days earlier.
Despite a prolonged period of inactivity, RAtM did not officially disband following its most recent live performance in 2011 in Los Angeles. Morello, Wilk and Commerford have continued playing together in other post-RAtM bands and communicate regularly with De La Rocha.
In fact, Morello, Wilk and Commerford formed Prophets of Rage in 2016 with De La Rocha's blessing when the vocalist couldn't commit to bringing back RAtM before Election Day.
To that point, it's probably no coincidence that RAtM is performing all of its shows so near the U.S.-Mexico border, where migrant families have been separated while trying to cross into the U.S. illegally.
Morello has remained keen on resuming the band's career, but has understandably grown tired of being posed questions about a potential reunion with only disappointing answers to give.
"I've tried throughout my career to make music that is uncompromising both musically and lyrically — that's exactly what Rage Against the Machine did," he said in an interview this summer with Alternative Press. "And if a Rage show ever breaks out, I'd be happy to play guitar, yeah."
For more information when it's available, try the band's official website here.
Photo: Getty Images