Carrie Underwood Tears Up Reflecting On End Of 'Cry Pretty 360' Tour
By Blake Taylor
November 4, 2019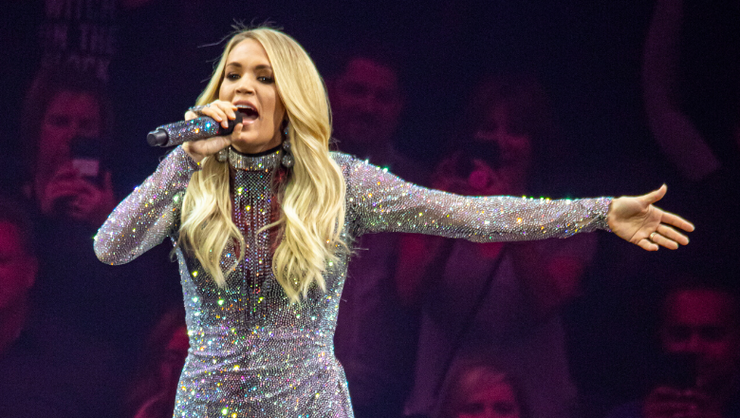 Carrie Underwood's "Cry Pretty Tour 360" has officially come to an end after six months of traveling to 60+ cities across North America. The country singer recently posted a video to Instagram to share her heartfelt thank you to fans and members of her team.
"I just want to say a sincere and heartfelt thank you to all of you who have come out to watch the show," Underwood says. "It's truly been a special one for all of us, and our band and crew, and everybody behind the scenes have just been absolutely amazing."
Tears start to well up in her eyes as she continues on to say, "It's one to remember and you guys are the ones who made it happen, so thank you so much."
Underwood's "Cry Pretty Tour 360" was highly impactful for a variety of reasons, one being "The Champion" contest. The ongoing contest encouraged fans to submit inspirational personal stories about what Underwood's hit anthem, "The Champion" means to them. In return, she'd pick a lucky winner to join her on stage and perform the rap part of the track with her.
In a recent show in Underwood's home state of Oklahoma, the country singer brought her own personal "champion" on stage, her mom Carole. As it turns out, Underwood isn't the only entertainer in the family. Carole rocked the house as she sang the rap portion of the track originally by Ludacris.
Another standout moment includes a two-hour show where Underwood invited opening acts, Maddie & Tae and Runaway June back on the stage to perform a 10-song medley of hits from some of country music's greatest female artists like Patsy Cline, Dolly Parton, Trisha Yearwood and more.
Clips from some of these standout moments are featured in a tour highlight video Underwood shared on Instagram which can be seen below. Additionally, her husband Mike Fisher and children Isaiah and Elijah also make an appearance.
Underwood's next appearance will be at the 2019 CMA Awards where she'll co-host the show alongside Reba McEntire and Dolly Parton. Underwood will also be performing her latest single, "Drinking Alone." Tune in to ABC on Wednesday, November 13 at 8 p.m. ET to watch the 53rd Annual CMA Awards.
Photo: Getty Images
Chat About Carrie Underwood Tears Up Reflecting On End Of 'Cry Pretty 360' Tour