KISS Has Approached Surviving Former Members About Final Show In New York
By Andrew Magnotta @AndrewMagnotta
November 6, 2019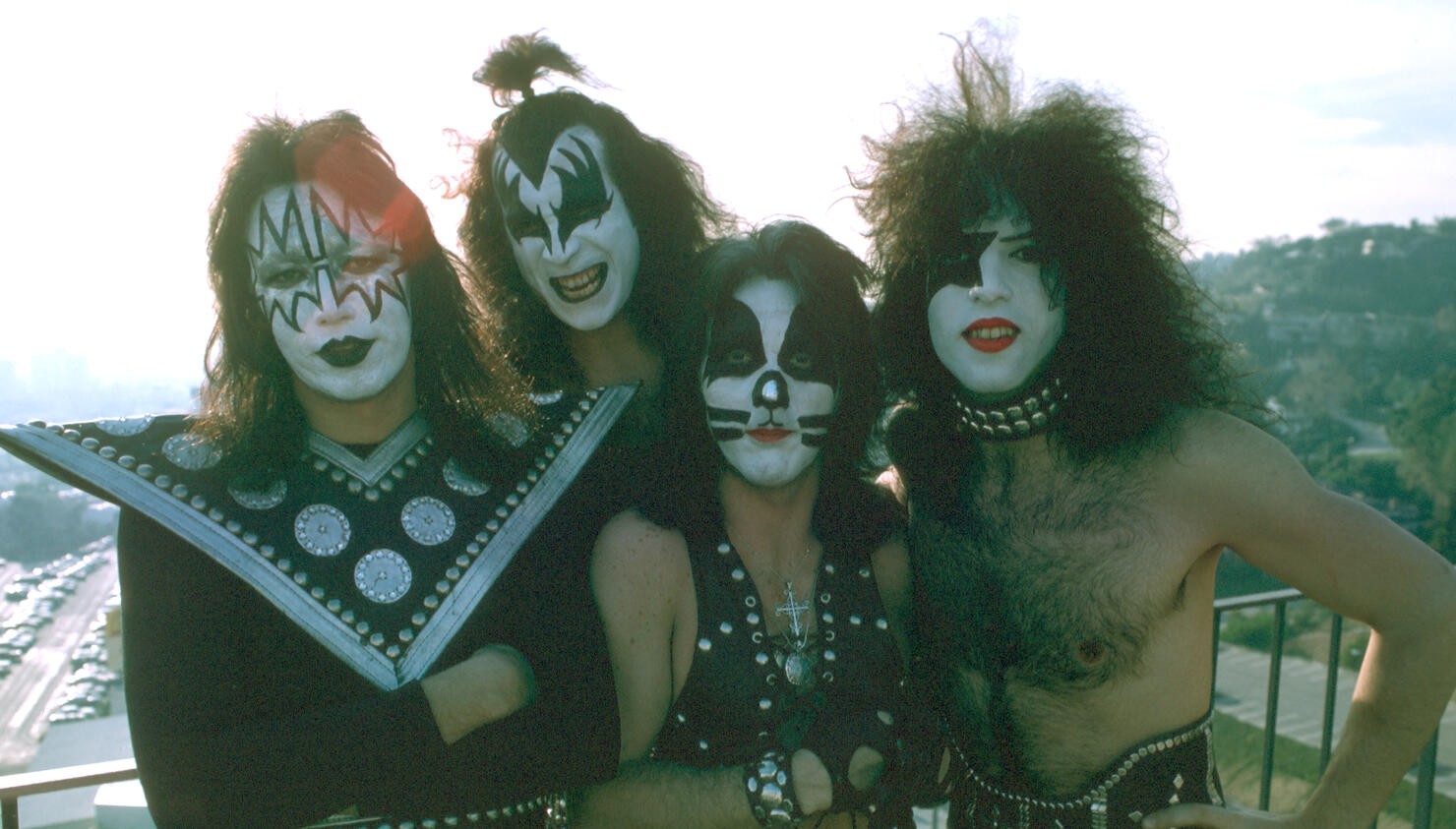 Kiss's final concert ever might be more than a year-and-a-half away, but the band is already looking ahead to try and get its surviving former members involved.
The band's manager Doc McGhee recently confirmed that every surviving former member of Kiss has been approached about taking part in the band's final show, particularly the co-founders who are no longer in the band.
"Ace [Frehley] and Peter [Criss] will be and have been invited to come and play with us at any time," McGhee said during a Q&A session aboard the Kiss Kruise IX, as reported by Ultimate Classic Rock. "Like I always say, people in New York would love to see Joe Namath still play football for the Jets. Unfortunately, he can't. We want to include everybody that played with Kiss to celebrate the 45 years of Kiss."
The final 'End of the Road' live show will take place July 17, 2021 in New York City. Kiss made the announcement on the last day of the latest Kiss Kruise.
Beyond Kiss's current lineup of Paul Stanley, Gene Simmons, Tommy Thayer and Eric Singer, there are four surviving former members including Frehley, Criss and former lead guitarists Bruce Kulick and Vinnie Vincent.
Frehley and Criss have maintained turbulent relationships with their former band mates in the years since their final split with Kiss in the early-'00s. Both musicians have publicly reunited with either Simmons, Stanley or both in recent years, yet both have also been publicly attacked by both Simmons and Stanley in the past year.
Despite Criss having been retired since 2017, Stanley ruthlessly slammed the drummer in his most recent book. Despite Frehley being sober for over a decade, Simmons still regularly dredges up the guitarist's substance abuse, which caused a blowup between the two last winter. Stanley later reported that the three had reconciled.
Since announcing their 'End of the Road' tour, Simmons and Stanley have maintained that former members are welcome to drop in on some of their gigs.
Kulick has stayed close to Kiss, even lending his talents to Kiss Kruise events over the years.
McGhee's mention of Vincent, may shock some who follow Kiss especially closely. Stanley once suggested that Vincent was the only surviving Kiss band member who was blacklisted after he sued the band more than a dozen times. Stanley accused Vincent on several occasions of unethical business.
The manager noted that the band still isn't sure what it will end up doing for its last show, who they will bring up or how, as they are early on in the planning stages. Plus, with such a heavily orchestrated show like Kiss's, having additional musicians drop in on short notice (and keeping them safe from pyrotechnics) has to be an unenviable logistical challenge. McGhee pointed out that such collaborations are also unprecedented in Kiss-tory, and the band is also considering how to make it look right.
"It's very difficult, though, when people say, 'Oh, you should bring Ace and Peter up.' I mean, how do you do that when you have two Catmen and two Spacemen?'" McGhee wondered. "So you say, 'Okay, you don't wear makeup, and you wear makeup.' And then they go, 'Well, that was my makeup.' I don't know."
It's a problem Frehley has pointed out multiple times as he's reingratiated himself with his former band mates. The guitarist has said multiple times that he will never share the stage with Kiss while Thayer wears his old costume.
While it's going to be "real hard to do," McGhee concluded that he and the band would figure it out "because [the former members are] very much a part of the heritage of Kiss."
Photo: Getty Images