Jason Aldean And More Play Veterans Day Show To Honor Our Military Heroes
By Blake Taylor
November 12, 2019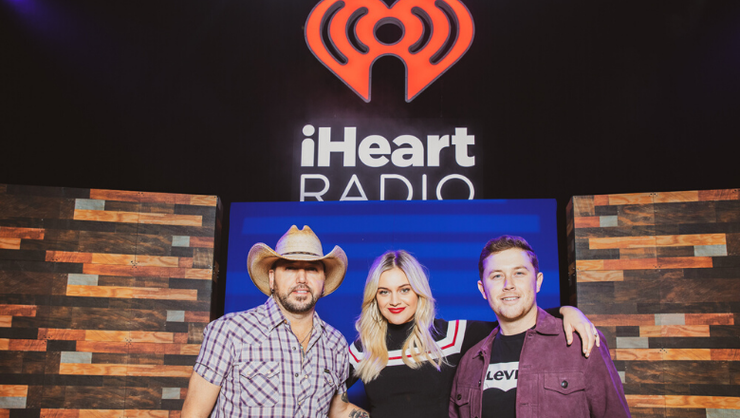 This year marks the 100th observance of Veterans Day. To honor our military heroes country singers Jason Aldean, Kelsea Ballerini and Scotty McCreery came together to perform during the 2019 iHeartCountry One Night For Our Military Presented by Roche Diabetes Care.
The special concert took place at the Country Music Hall of Fame in Nashville, Tennessee where about 750+ attendees, including many from nearby military bases Fort Knox and Fort Campbell gathered.
The night was kicked off by McCreery with an acoustic performance of his hit song, "See You Tonight" which he immediately followed up with his 2014 hit, "Feelin' It."
"It's been a fun ride for me. I've been doing this almost a decade now, which is nuts cause I'm just 26-years-old," McCreery says to the crowd. "But it's been a good time and we've been all over the place enjoying ourselves."
He continues, "As much fun as we're having out on the road, the best thing that's ever happened in my life, a year and a half ago I got married y'all."
"Married my kindergarten sweet heart believe it or not" he explains. "In her kindergarten diary she has 'Mrs. Gabi McCreery' written all over. It's just one of those fate things."
"I wrote a song for her that I never thought anybody would hear. A song kind of about our engagement story and taking her up the mountains in North Carolina," McCreery says going on to explain, "I had the whole engagement planned out, with the ring in my closet for 3-months, scared to death she was gonna go raid my closet for some clothes. Luckily she never did"
"And luckily she said yes or that would've been pretty awkward with this song," he jokes before singing the song he wrote for his wife, Gabi, titled "This Is It."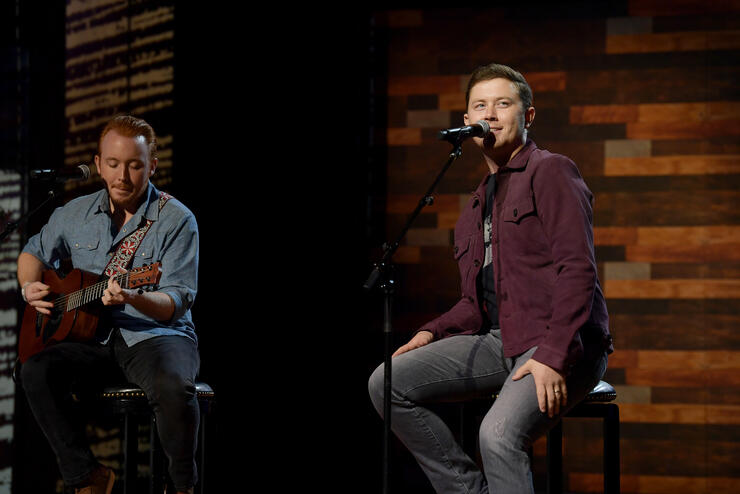 After the adorable love song, McCreery played his current single, "In Between" noting that his favorite line in the song is "I ain't all holy water / And I ain't all Jim Bean."
To close out his set, the North Carolina native sang what he says is his favorite song that he's ever written. It was written on February 5, 2015 just two weeks after losing his Granddaddy Bill who McCreery says "was my guy." This song written to honor his granddaddy ended up being the country singer's first No. 1 single titled, "Five More Minutes."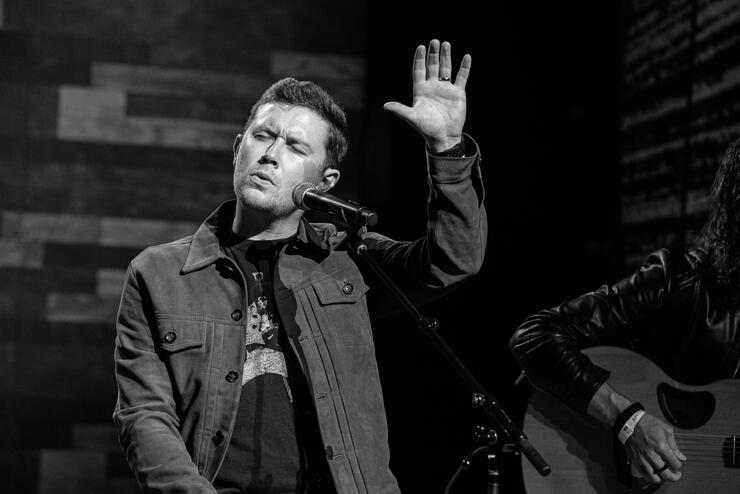 Next up to rock the stage for the special night was Ballerini who kicked off her set with a sass-filled performance of "Miss Me More" followed by her 2015 hit, "Yeah Boy."
"I started writing songs when I was 12. I moved to Nashville when I was 15 and I started as a songwriter, it's the most important part of what I do," Ballerini says. She went on to express her love for songwriting adding "sometimes songwriters don't get the appreciation and the recognition that they deserve. From there, she sang a song which she discovered on NBC's Songland written by Darius Coleman titled "Better Luck Next Time."
Ballerini followed up "Better Luck Next Time" with a song she wrote at age 19. "When you're 19, you write about what you know, and what I knew was the feelings of my first breakup where you think the earth is shaking and you wonder if everything is ever going to be okay again," she say. "I learned that sometimes you just get into relationships with Peter Pans," Ballerini adds before singing "Peter Pan."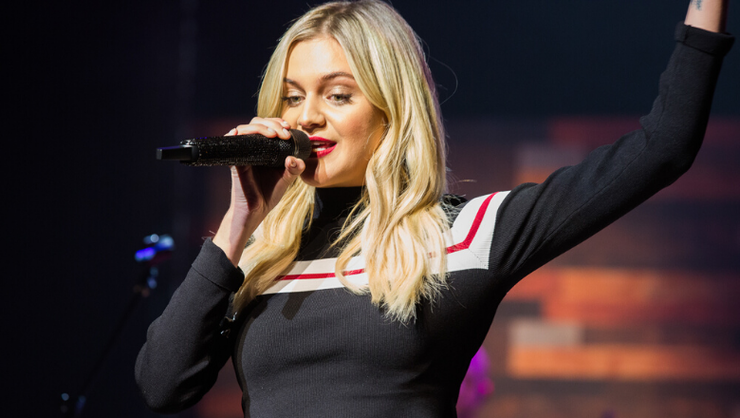 After the heartfelt performance of the fan favorite, "Peter Pan," Ballerini dove into another, more recent deep cut and her current single, "homecoming queen?"
"Honestly I'm just in this place in my life where I'm just trying to be like a little bit more honest and a little bit more real," she says going on to explain, "because the thing is I spend so much of my time doing this and if I'm singing songs about just being happy all the time, that's not necessarily the case cause we're all human."
"I think we're living in this world right now where none of us feel permission to be anything but perfect and together and presentable and okay," she says. "But we also live in a world that does not allow that to happen all the time. So I really wanted to challenge myself to peel back the layers and kind of get more to the heart of being human."
Following her emotional performance of "homecoming queen?" Ballerini concluded her set with an energetic performance of her hit collaboration with The Chainsmokers titled, "This Feeling."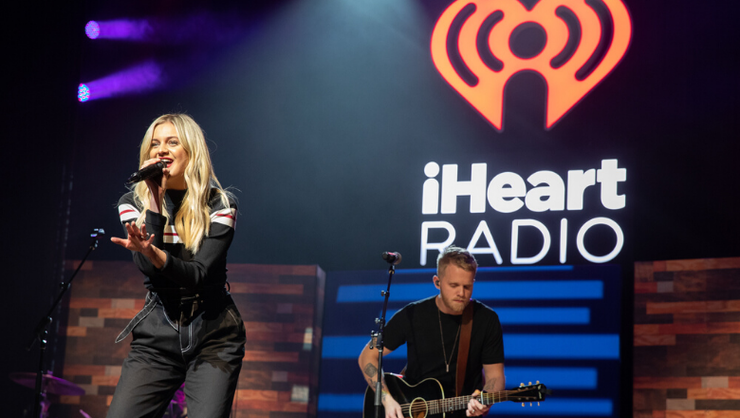 After Ballerini's set, the show then took a break from the music to honor Medal of Honor recipient, Drew Dix. "This is a perfect place to celebrate Veterans Day," he says adding, "Country music is the heart of the military."
Dix went on to bring attention to one thing all men and women who serve have in common. "The one thing in common is the fire in our eyes about serving this country and the sacrifices they've made and more importantly the sacrifices they are willing to make," he says. "That's what's going to keep this country great and strong."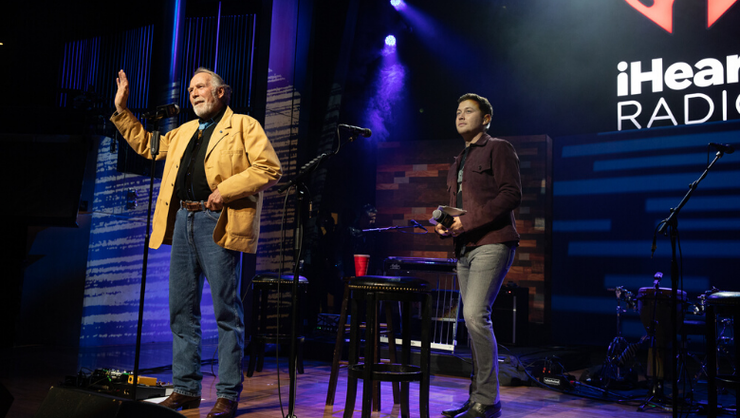 To wrap up the night, Aldean took the stage to perform a few fan-favorite hits. He started his set with "My Kind Of Party" followed by his longest reigning No. 1 song "Big Green Tractor." Aldean then played "Camouflage Hat," a song off his upcoming new album 9 due out November 22.
"Nine was my lucky number growing up, it was my baseball number" he explains of the album title. "I remember early on it was kind of like a pipe dream and I thought, 'Man that'd be cool if I ever made nine albums and I just called it number 9,'"
Nine albums later and Aldean still gets just as excited as ever to release a new record. "I try to keep it fresh, try to keep it new, try to give people something they feel like they haven't heard before," he says.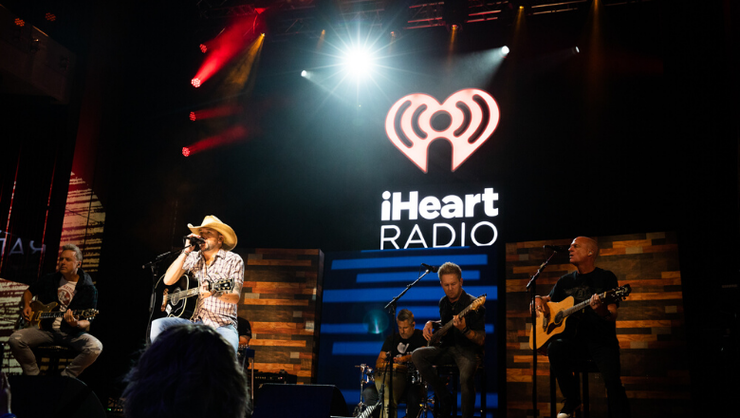 Next up, Aldean performed "Dirt Road Anthem," a song he says he "rolled the dice on," explaining that it was one of those songs people would either love or hate. As it turned out, fans loved the song and Aldean's career ended up taking off from that moment forward.
Other songs Aldean played during the intimate show include "Any Ol' Barstool" off his 2016 They Don't Know album followed by "Tattoos On This Town" off 2010's My Kinda Party record and "Drowns The Whiskey" featuring Miranda Lambert off his 2018 Rearview Town album.
Before continuing on with his final song "We Back," Aldean talked about life growing up with a father in the military. "I kind of grew up on an air-force base a little bit," he says. "My dad was stationed down in Homestead and then at Moody in Valdosta, Georgia. So you know, I just kind of grew up around that stuff."
"I always thought it was really cool. When I was a kid, I got to go run around, sit in all the planes and just kind of play on the flight line," he says with a smile adding, "When I was in high school, I was a ball player and I knew I wanted to play ball."
"I don't think I ever considered doing it [serving in the military] only because I had other things that I really wanted to do. But that's why I have a ton of respect for all the guys that do that. It's just pretty amazing all that they sacrifice for us."
Photo: Joseph Llanes for iHeartRadio