Jason Aldean Drops New Song 'Camouflage Hat' Off Upcoming Album
By Blake Taylor
October 25, 2019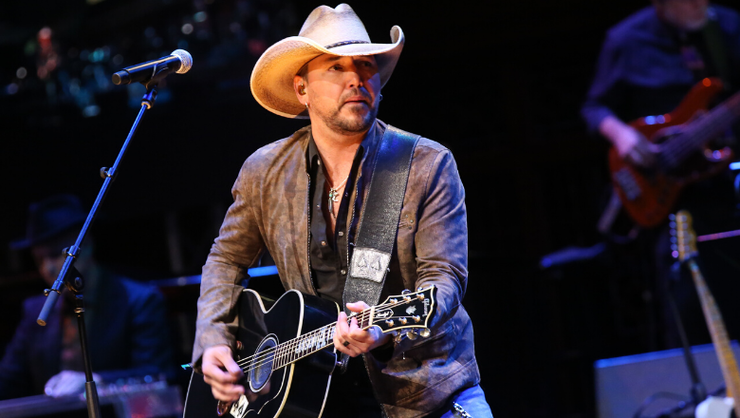 Jason Aldean continues to share new music from his upcoming album, 9. His latest release, "Camouflage Hat," written by Josh Thompson, Jameson Rodgers, and Ben Hayslip, is all about letting loose after a long week of hard work small town style.
"Here they come, rolling down Main Street / A country song spinning on a CD / Small town looking for a good time / Raise a little hell and a drink at the county line / Muddy boots, muddy tires / Wrap your baby in your jacket by the fire / Yeah, the girls round here, they got it bad / For good old boys in a camouflage hat." Aldean sings.
"Camouflage Hat" will be featured on Aldean's new album, 9, which is set for release on November 22. In addition to the album's lead single, "We Back," Aldean has already released a handful of other new songs including "Blame It On You," "I Don't Drink Anymore," "Keep It Small Town," "Dirt We Were Raised On," and "Got What I Got." The new 16-track project is Aldean's ninth studio album following up last year's Rearview Town.
Aldean is set to make his return to Las Vegas in early December for "Jason Aldean: Ride All Night Vegas" at Park Theater at the Park MGM. Additionally, the country singer recently announced he plans to his the road in 2020 for his "We Back Tour." The 20-city trek will kick off on January 30 and run through March 14, wrapping up in St. Paul, Minnesota. Joining him on the journey will be special guests Morgan Wallen, Riley Green and Dee Jay Silver. To get more information or to purchase tickets go to JasonAldean.com.
Take a list to Aldean's latest song, "Camouflage Hat" below.