Garth Brooks And Blake Shelton Rock The 'Dive Bar' At The 2019 CMA Awards
By Blake Taylor
November 14, 2019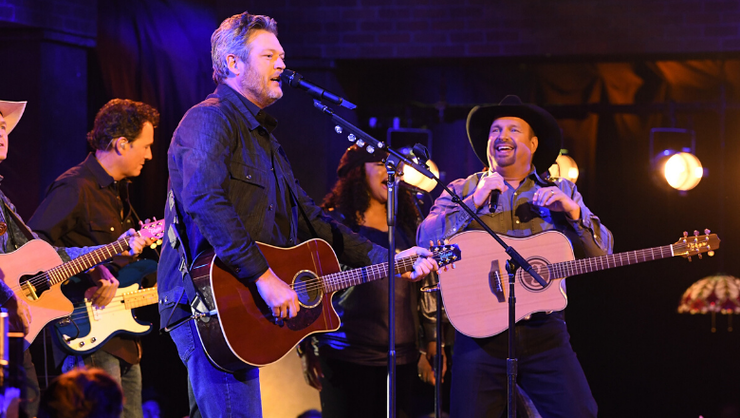 Garth Brooks and Blake Shelton closed out the 2019 CMA Award on Wednesday night (November 13) with an energetic performance of "Dive Bar."
For their first ever televised performance of the single, the two country stars had what was described as "their own personal dive bar" set up on stage. "So here's a toast coast to coast / With a big old adios to wishes wasted on them falling stars / We're gonna spend the weekend in the deep end of a dive bar," the two sing together.
Ironically, Shelton's performance of "God's Country" during the 2019 ACM Awards is what initially inspired Brooks reach out about the "Dive Bar" collaboration. "I thought, 'I'm feeling something here that's drawing me right into this television.' So I just reached out for him," Brooks previously shared. "He was so sweet on the phone. The last thing I said was 'Hey, man, I don't want to put you on the spot, but we got a song that might be a pretty cool duet.'"
Brooks and Shelton recently released the music video for "Dive Bar," featuring the two of them singing "underwater" with a few "sharks" dancing around them. This video marks Brooks' first music video in about 12 years but it was sure worth the wait.
"I keep saying that this is the most fun I've ever had on a video shoot," Brooks says. "I couldn't stop laughing, just pure joy. The band, crew, Blake...everyone made this one an unforgettable experience. It's been a while since we've done a music video and I hope everyone agrees this one was worth the wait."
Shelton and Brooks both were big winners on Wednesday night. Shelton took home the CMA Award for Single of the Year for his smash hit, "God's Country," while Brooks celebrated his seventh CMA Entertainer of the Year win.