Matty Healy Records Paranoid Home Video In 'Frail State Of Mind' Visuals
By Katrina Nattress
November 21, 2019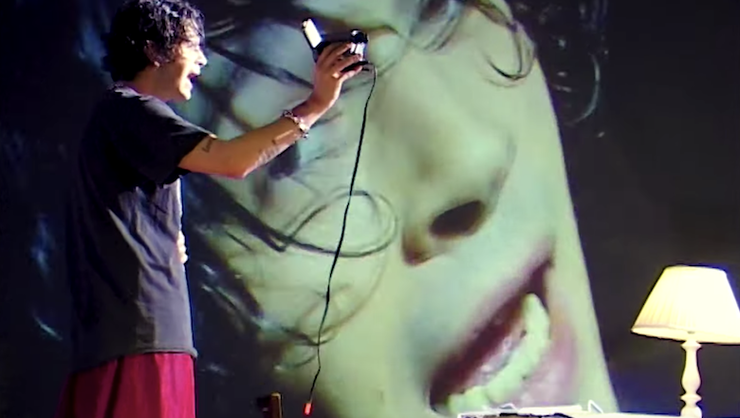 The 1975's latest single "Frail State of Mind" is all about anxiety, and its corresponding visuals couldn't be more on point with its themes. The video stars the band's frontman Matty Healy holed up in a room scattered with pictures and , as he films paranoid home videos through a camcorder that projects on a large screen behind him. As he does this, the camera sporadically cuts to images of a computer simulated face, digital images, and the song's lyrics, portraying the scattered brain of someone dealing with anxiety.
"We were always reaching for the stars creatively. So there's that but it was almost like we kind of just closed the door on the world a little bit and just went into this record," Healy said of the song in a recent interview. "So I think there was like a fragility to us because maybe we were a little bit frightened or something. And I think that, well I mean the song's called 'Frail State of Mind,' it's about anxiety. But I think there's like a real, it's quite somber. It's kind of in the middle. Like it kind of blends between euphoria and-UK Garage and yeah, it goes from a real sadness to a real euphoria."
The song follows the in-your-face lead single "People" and opening track, which features teenage activist Greta Thunberg. Notes on a Conditional Form is slated for a February 21, 2020 release. Watch the "Frail State of Mind" video below.
Chat About Matty Healy Records Paranoid Home Video In 'Frail State Of Mind' Visuals