Brad Paisley Says His Wife Kimberly Makes Him A Better Man
By Blake Taylor
November 22, 2019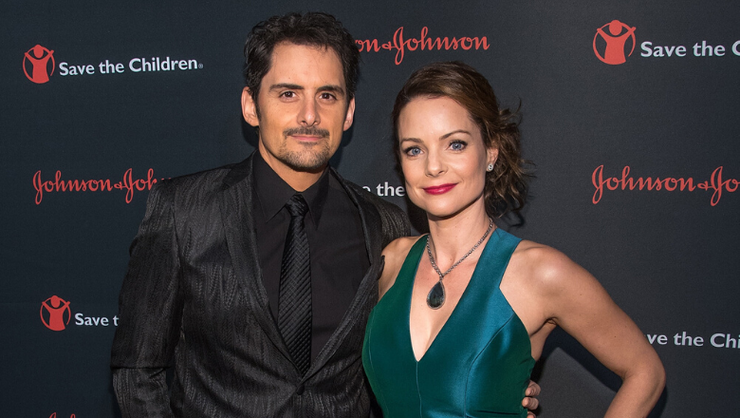 Brad Paisley and his wife, Kimberly Williams-Paisley, tied the knot in 2003. Now, 16-years later, and the couple is still going strong! 
In a recent interview with Us, Paisley opened up about their marriage, crediting his wife for his personal growth. "My wife makes me better," Paisley says. "She does a good job of telling me how to have perspective."
Back in March 2015, the couple renewed their vows. At the time, Paisley said, "We did a really, really campy wedding vow renewal ceremony. It was awesome." 
In addition to his career in music, Paisley has recently been branching out to television. He's been working on multiple projects, including producing and starring in an Amazon series, Fish Out of Water, as well as a one-hour variety show, Brad Paisley Thinks He's Special. 
The Amazon special, Paisley reveals, "shows the dark side of the music business but through a comedic lens." He will be working with comedic actor and writer Will Arnett, along with A.D. Miles, Peter Principato, Marc Forman, and more. Additionally, and best of all, Williams-Paisley will also make a special appearance. "She's written in," Paisley reveals. "Her role in this isn't what you'd expect 'cause this is fiction. That's the fun part." 
More recently, the couple traveled to a beach to spend some quality time with each other in the sunshine. While on vacation, the two enjoyed some relaxation, along with a ton of laughter. 
In a video Wiliams-Paisley shared from the trip, the country singer was filmed while attempting to bodysurf. Despite his effort, Paisley continued to get knocked over by the big waves rolling in. His wife, who's up on the beach, can not contain her laughter as she watches her husband fall over multiple times. 
Check out the video below and be sure to tune into Brad Paisley Thinks He's Special airing on December 3 on ABC at 8 p.m. ET.