Brett Young Shares Adorable New Photo Of His Baby Girl, Presley
By Blake Taylor
December 12, 2019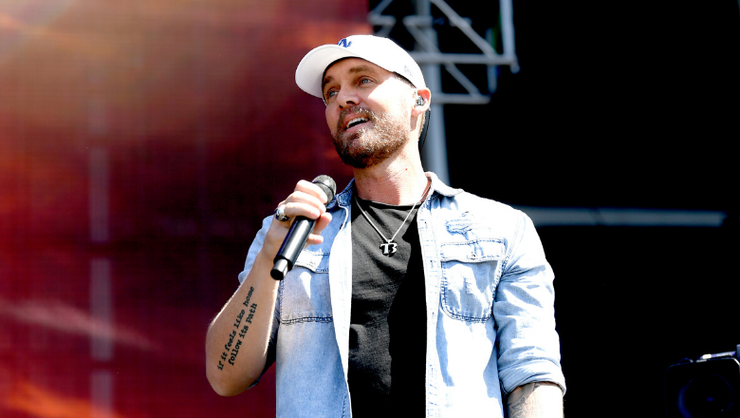 Brett Young and his wife, Taylor are off to a great start on their journey as new parents. The couple welcomed their daughter Presley into the world on Monday, October 21.
The country singer recently shared a new photo on social media of him with him cute family of three. He captioned the black and white photo, "MY WORLD," while his wife left a comment, "Mine."
Since becoming a father, Young has had to of course adjust a few parts of his routine including his sleep schedule. "If I were to complain about sleep right now, I'd feel guilty, because my wife is sleeping much less than me," Young shared with PopCulture.com. "We're on cloud nine, and we're figuring it out, and very blessed."
Having a baby in the picture now has made the singer fall more in love with his wife.
"If you read my post when Presley was born, I said my wife was a superhero, and moms are superheroes," Young says. "I didn't know it could be more true but I felt it in that moment, watching her over the last three weeks take to motherhood, like somebody who's done it for her whole life ... she's good. She's up all night. She's breastfeeding. She's not sleeping. She's figuring out what cry means what, and she's doing it with grace. She's good. She probably would like a couple hours of sleep right now."
After a few months at home adjusting to being a father at home, he'll then hit the road for his "The Chapters Tour." The tour will start on January 30 with a show in Knoxville, Tennessee making his way to other cities around the country including St. Louis, Oklahoma City, Las Vegas and more.
The full list of cities and dates for the tour can be seen here. Tickets for the tour are available now.
Chat About Brett Young Shares Adorable New Photo Of His Baby Girl, Presley